Save Big on Tax Forms & Year-End File Reviews
1096 · 1099 · W-2 · W-3 · ENVELOPES
Can you believe it's that time of year again? No one really looks forward to it but we still have to do it…1099's and W-2's. 
Let VARC Solutions Save You Time and Money!
Give us your tax-form order count between now and October 31st and save 20% on all tax forms and envelopes!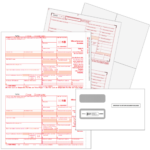 And while you're at it, schedule your Year-End File Review and check that off your "to-do" list! Make sure all of your accounts are reconciled and prepare your records for year-end and tax time.
VARC Solutions has designed a 31 Point File Review that covers all aspects of your bookkeeping. Your file review can be done at your office or securely online. And it's cost-effective! Our flat fee of $495 plus tax is less than what most CPA's charge an hour! But schedule now and you will receive 15% off of our flat fee price!
This sale won't last long so take advantage of our Spooktacular Savings and call or email us today!
And remember, we won't invoice you for tax forms until we ship them to you at the end of December.