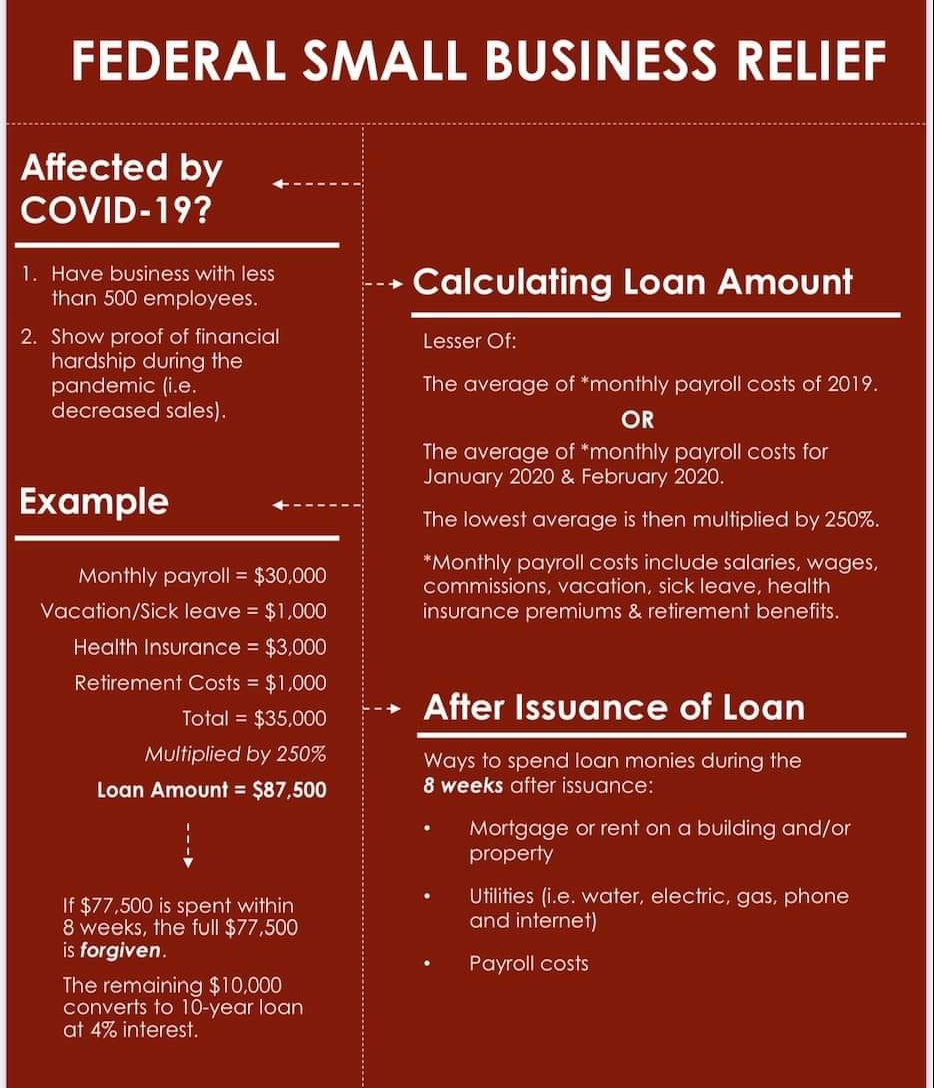 This program authorizes up to $349 billion in forgivable loans to small businesses to pay their employees during the COVID-19 crisis.
This program is designed to provide economic support to businesses by offering loans to enable companies to retain employees and pay certain operational expenses incurred during the COVID-19 pandemic.
The PPP eliminates many of the requirements of a typical SBA loan and expands the types of businesses that are eligible for relief. The SBA continues to provide guidance regarding this program. Please check back frequently for updates. 
FAQs
When can I apply?
Small businesses and sole proprietorships can apply for and receive loans to cover their payroll and other certain expenses now.

Starting April 10, 2020, independent contractors and self-employed individuals can apply for and receive loans to cover their payroll and other certain expenses.
Where can I apply?
Contact your local bank to inquire if they are an approved SBA Lender. They will provide an application to complete.
What do I need to apply?  
You will need to complete the PPP loan application and submit the application with the required documentation before June 15, 2020. 
What other documents will I need to include in my application? 
You will need to provide your relationship manager with payroll documentation.
Start Preparing Now 
We recommend you begin collecting the following documentation to support your application: 
Payroll reports for 2019 and 2020 year-to-date showing the following by employee and/or officers: • Gross wages • Paid time off • Paid vacation • Pay for family medical leave • State and local taxes (form 940, 941 or 944) • 1099's for independent contractors (if applicable)

Health insurance premiums paid by the employer under a group health plan

Sum of all retirement plan funding contributed by the employer (include 401K plans, Simple IRA & SEP IRAs)
What can I use these loans for? 
You should use the proceeds from these loans toward your:
Payroll costs, including benefits;

Interest on mortgage obligations, incurred before February 15, 2020;

Rent, under lease agreements in force before February 15, 2020; and

Utilities, for which service began before February 15, 2020.
What counts as payroll costs?
Payroll costs include:
Salary, wages, commissions or tips (capped at $100,000 on an annualized basis for each employee);

Employee benefits including costs for vacation, parental, family, medical or sick leave;

Allowance for separation or dismissal; payments required for the provisions of group health care benefits including insurance premiums; and payment of any retirement benefit;

State and local taxes assessed on compensation; and

For a sole proprietor or independent contractor: wages, commissions, income or net earnings from self-employment, capped at $100,000 on an annualized basis for each employee.
How large can my loan be?  
Loans can be for up to 2.5x your average monthly payroll costs (several options available to calculate, check with your lender for their specific requirement). That amount is subject to a $10 million cap. If you are a seasonal or new business, you will use different applicable time periods for your calculation. Payroll costs will be capped at $100,000 annualized for each employee.
Who can apply?
All businesses – including nonprofits, veterans organizations, Tribal business concerns, sole proprietorships, self-employed individuals, and independent contractors – with 500 or fewer employees can apply. Businesses in certain industries can have more than 500 employees if they meet applicable SBA employee-based size standards for those industries (click HERE for additional detail).
For this program, the SBA's affiliation standards are waived for small businesses (1) in the hotel and food services industries (click HERE for NAICS code 72 to confirm); or (2) that are franchises in the SBA's Franchise Directory (click HERE to check); or (3) that receive financial assistance from small business investment companies licensed by the SBA. Additional guidance may be released as appropriate.
Business Operations
Covers business operations from 2/15/2020 – 6/30/2020; the loan must be originated by 6/30/2020.  Each applicant must provide evidence the business was in operation prior to 2/15/2020.
Forgiveness
The loan can be 100% forgiven if certain qualifications are met

Expenditures eligible for forgiveness over an eight-week period:
Rent

Utilities

Interest payments on any mortgage obligations or other debt obligations incurred before February 15, 2020 (but not any payments or prepayments of principal)

Payroll costs
Do I need to first look for other funds before applying to this program?
No. The SBA is waiving the usual SBA requirement that you try to obtain some or all of the loan funds from other sources (i.e., we are waiving the Credit Elsewhere requirement).
How long will this program last?
Although the program is open until June 30, 2020, we encourage you to apply as quickly as you can because there is a funding cap. 
How many loans can I take out under this program?
Only one.
How much of my loan will be forgiven?
You will owe money when your loan is due if you use the loan amount for anything other than payroll costs, mortgage interest, rent and utilities payments over the 8 weeks after getting the loan. Due to likely high subscription, it is anticipated that not more than 25% of the forgiven amount may be for non-payroll costs.
You will also owe money if you do not maintain your staff and payroll.
Number of Staff: Your loan forgiveness will be reduced if you decrease your full-time employee headcount.

Level of Payroll: Your loan forgiveness will also be reduced if you decrease salaries and wages by more than 25% for any employee that made less than $100,000 annualized in 2019.

Re-Hiring: You have until June 30, 2020 to restore your full-time employment and salary levels for any changes made between February 15, 2020 and April 26, 2020.
How can I request loan forgiveness?
You can submit a request to the relationship manager that is servicing the loan. The request will include documents that verify the number of full-time equivalent employees and pay rates, as well as the payments on eligible mortgage, lease and utility obligations. You must certify that the documents are true and that you used the forgiveness amount to keep employees and make eligible mortgage interest, rent and utility payments. The relationship manager must make a decision on the forgiveness within 60 days of the request.
What is my interest rate?
The SBA currently shows the rate at 1% (as of 4/3/20). The interest rate only applies to money spent on non-allowed expense categories or money NOT used in accordance with this program. There is NO early payment penalty, so you can simply return any unused money and that money won't be subject to interest (or minimal depending on how long you held onto the money). Contact your lender for specific details, as not all sites/bank pages have been updated for current rates.
When do I need to start paying interest on my loan? 
All payments are deferred for 6 months; however, interest will continue to accrue over this period.
When is my loan due?
Currently it's a 2 year term. Check with your lender for specifics, as term/options seem to be in flux.
Can I pay my loan earlier?
Yes. There are no prepayment penalties or fees.
Do I need to pledge any collateral for these loans?
No. No collateral is required.
Do I need to personally guarantee this loan? 
No. There is no personal guarantee requirement.
***However, if the proceeds are used for fraudulent purposes, the U.S. government will pursue criminal charges against you.***
What do I need to certify?
As part of your application, you need to certify in good faith that:

Current economic uncertainty makes the loan necessary to support your ongoing operations.

The funds will be used to retain workers and maintain payroll or to make mortgage, lease and utility payments.

You have not and will not receive another loan under the PPP program.

You will provide your relation
Which Bank to Contact for Loan?
We recommend you contact your local bank first, but here is a list of SBA approved lenders if your local bank isn't prepared to service this program:
For our Houston/Friendswood, TX friends, we know of two local banks that are accepting loan applications:
Bank Specific Pages
21st Century Bank
America First FCU – Apply at this link by clicking Apply Now. You'll need a business account first.
Ameris Bank – Fill out an application here and submit to PPP@amerisbank.com. See more details.
Atlantic Capital Bank
Bank of America –  A guide is posted here, but there aren't many details on applying yet.
Bank of George – See documents you'll need here.
Bank of Hope – Call 888-972-5363 for details.
BankUnited – Begin collecting documentation now, including Form 941 from the most recent four quarters and verification of payroll cost and employees for the last 12 months. See updates here.
Berkshire Bank – They suggest filling out a Contact Us form because of high call volume.
Byline Bank – Updates will be here. If you're a current customer, contact your Portfolio Manager.
Cadence Bank – Learn more.
Capital One – Applications aren't being accepted as of April 2. Updates will be posted here.
Cathay Bank
Celtic Bank – Celtic warns they may have to delay accepting applications due to the SBA not yet releasing initial guidance. You can start by filling out a form here.
CenterState Bank – Complete a form here for updates
Centerstone SBA Lending, Inc.
Chase Bank – They aren't currently accepting applications but will post updates here.
Citizens Bank – Updates will be posted here.
Comerica Bank – Call 888-444-9876. Updates will be posted here.
Customers Bank – Complete the form at the bottom of the webpage for updates.
East West Bank – Fill out the inquiry form here.
Embassy National Bank
Falcon National Bank –  Phone numbers and emails to contact are listed here.
Fifth Third Bank – You'll need an online banking profile first and you can only apply online. See more details here.
FinWise Bank
FirstBank – Download an application here and then email it to your FirstBank banker.
First Chatham Bank
First Commonwealth Bank – Complete an application here and include 2019 Form 941 or Form 944 and a beneficial ownership form. Upload the application on their DropBox site or mail the application. See more details here.
First General Bank
First Home Bank – Start applying here.
First-Citizens Bank & Trust Company
First IC Bank
First Financial Bank – Details will be posted here and First's SBA clients will also get emails.
First Horizon Bank – Updates here and contact your banker for more details.
First National Bank of Pennsylvania – Updates here.
First Savings Bank – If you're a current banking customer, contact one of their lenders or call 1-833-372-4968.
First United Bank – Apply here.
First Western – Updates will be posted here.
Five Star Bank – Contact your relationship manager for details, or see phone numbers near the bottom of the page here.
Fountainhead SBF LLC – Fill out an application here to be entered into the processing queue. You'll get a welcome email with details on more steps to take.
Frost Bank – Plan ahead by gathering all the required documentation and then talk to your banker. More details are here.
Fulton Bank – Applications will be accepted starting April 3. Download an application here, save it and email it to PPPSB@fultonbank.com. See details here.
Hana Small Business Lending, Inc.
Hanmi Bank – Details here.
Harvest Small Business Finance, LLC
HomeTrust Bank – Updates will be here.
Huntington National Bank – See their PPP page here. They list what documentation you'll need along with other relief programs.
IncredibleBank – See details here.
Independent Bank
KeyBank National Association – Fill out a form here for updates.
JPMorgan Chase Bank – They aren't currently accepting applications but will post updates here.
Live Oak Banking – Sign up here to see when they're accepting applications.
M&T Bank – Updates may be posted here. They also have an SBA loan page here, but it isn't updated yet with CARES information.
Metro City Bank
Midwest BankCentre – PPP fact sheet and details are here. Call 314-631-550 or 800-894-1350 with questions.
Midwest Regional Bank – A page here simply says not to email personal or financial information.
Mountain Pacific Bank – Contact your loan officer at 425-263-3500 or wait for updates here.
MUFG Union Bank
NewBank
Newtek Small Business Finance, Inc.
Northwest Bank – Updates here.
Old National Bank – Applications open April 3. Contact a loan officer for details.
Open Bank
Pacific City Bank – Their SBA loan page is here, but it does not list PPP options yet.
Patriot Bank
Pacific Western Bank – There's no start date yet, but the bank recommends having payroll registers and financial statements ready. Learn more here.
Peapack-Gladstone Bank – On this update, the bank says to email PGBCovid19PPPRelief@pgbank.com for help.
Peoples Bank – Complete a form here to be contacted.
Pinnacle Bank – Talk to your Pinnacle financial advisor or find one here.
PNC Bank – Click "Contact Us" for details.
Poppy Bank
PromiseOne Bank – Their website currently only talks about EIDL loans and not the new PPP loans, so it's not clear if they're offering these loans or not.
Quantum National Bank – Applications will be posted here.
Readycap Lending, LLC – Start the process here.
Regions Bank – Updates here.
Republic Bank – This page briefly mentions PPP along with other options.
Royal Business Bank
Seacoast Commerce Bank – Scroll down to the Protection Loan section near the end of the site and click on "Apply  Here."
Shinhan Bank America
Stearns Bank National Association – PPP loan applications won't be accepted until April 10.
Stone Bank
Sunflower Bank – Get updates here.
Synovus Bank – You can apply online on April 3. Be notified here.
TCF National Bank
The MINT National Bank
Truist Bank d/b/a Branch Banking & Trust Co – Trustmark has a page about applying here.
UniBank
Union Bank – Updates are posted here but nothing specifically about CARES as of the time of publication.
United Business Bank
United Community Bank – Sign up here for updates on PPP.
United Midwest Savings Bank
Univest – They'll begin accepting loan applications on April 3 and April 10. Complete an online application here and send it to PPP@univest.net.
U.S. Bank, National Association – Updates will be posted here.
US Metro Bank
VelocitySBA – See here.
Wallis Bank
Wells Fargo Bank – You'll be able to apply online here.
Zions Bank – An application will be here on April 3.