Are You Evaluating Quick Base? Let Us Help You!
We've evaluated many different platforms, and pound for pound, Quick Base comes out on top. Here's why.
Why We Develop on Quick Base
Low-Code, Cloud, and Mobile Friendly
Quick Base is not just a cloud database. Quick Base is a low-code, cloud-based, and mobile-friendly platform to build custom applications and business solutions.  It's powerful and scalable to meet your needs.
Track and Manage Anything, From Anywhere
With Quick Base, you can execute and track projects, manage complex inventory and resources, build a custom CRM and invoicing system, and automate a multitude of business processes, with teams large or small, collaborating from anywhere, at any time.
Share or Protect Data However You Want
Safely share essential data with your team members, employees, partners, contractors, or vendors, and control access to sensitive information with powerful roles and permissions.
Drive Productivity Through Automation
Create smart forms, alerts, notifications, and reminders. With data or trigger-based automations, your Quick Base application will streamline repetitive tasks, enabling your team to do more real work and less busywork.
Drive Team Engagement and Accountability
Quick Base enables higher levels of engagement with user-friendly forms, reports, dashboards, and notifications. The result is improved accountability and team productivity.
Improved Visibility and Decision Making
Quick Base is not just about the "data". It's a platform to manage and see your data in real-time. Dashboards and visualization allow you to interpret your data in new and better ways… resulting in better business decisions.
Connect Everything
Quick Base doesn't operate in a silo and neither should you! Quick Base has an API to integrate with practically anything. Extend Quick Base through integration and automation tools like Workato, Zapier, and more! And if you need to connect with QuickBooks, VARC Solutions has built a custom connection tool for that!
Schedule a Live Demo With Our Experts
Quick Base Customer Testimonial
Why Choose VARC Solutions as your Quick Base Solution Provider?
VARC Solutions is a Silver Level Quick Base Solution Provider. We've worked with Quick Base since its launch and we've built solutions for a multitude of clients, across industries, across North America.
We've won the awards, but our success is truly measured by what we can build for you. Our team of expert consultants and application builders will build your solution to your specs, in-time, and within budget.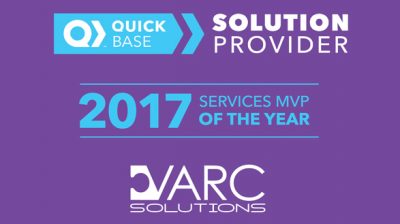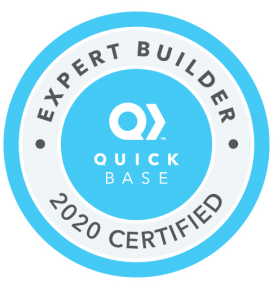 Trusted by Clients Across North America