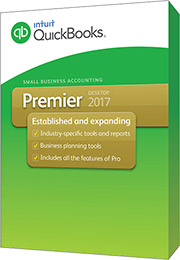 Find Out what QuickBooks Premier can do for you!
QuickBooks Premier, with around 6 million users worldwide,
is one of the most popular accounting
programs available.
Premier has all of the features found in Pro, but also allows up to 5 users.
Premier also includes industry-specific features to run your business more efficiently.
Industry-specific features are available for Manufacturing & Wholesale, Nonprofits, Professional Services, Retail, General Contractor, and General Business.
Another enhancement found in Premier is a bill tracker that allows you to see the status of your created bills, print or close purchase orders, and more.  Contact VARC Solutions to find out what QuickBooks Premier can do for you.
New in QuickBooks Desktop Premier 2019
Important pricing terms, offer details, and disclosures
Billing Rate Levels only available in Premier Professional Services, Contractor and Accountant Editions. Not available in Pro Edition, Premier Nonprofit, Manufacturing & Wholesale, and Retail.
Windows 7 SP1, 8.1 Update 1, or Windows 10 (all 32-bit & 64-bit)
2.5 GB disk space recommended (additional space required for data files)
Windows Server 2008 R2 SP1, 2012 R2
2.4 GHz processor
4 GB of RAM (8 GB recommended)
4x DVD-ROM drive
Payroll and online features require Internet access (1 Mbps recommended speed)
Product registration required
Optimized for 1280×1024 screen resolution or higher. Supports up to 2 extended monitors. Optimized for Default DPI settings.