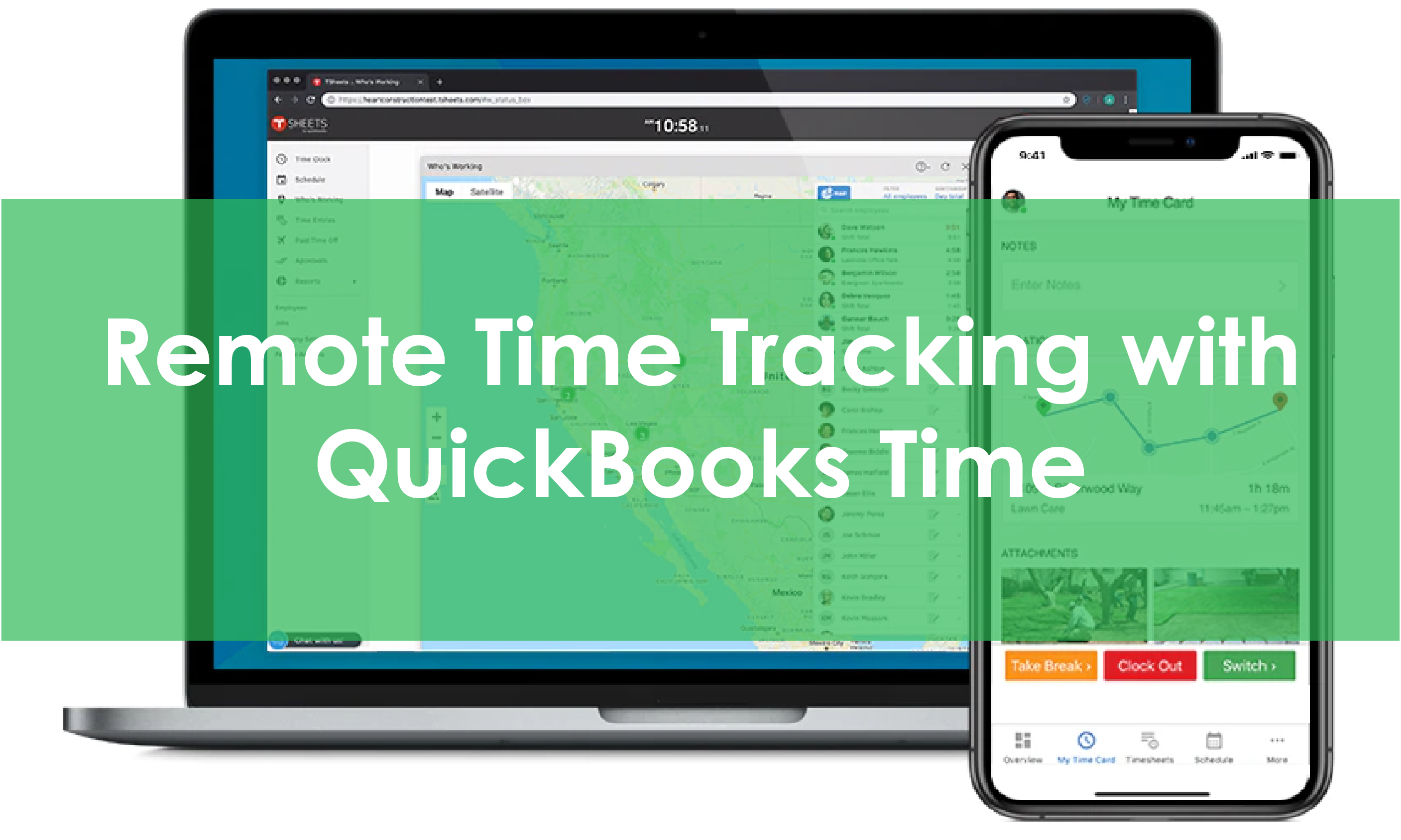 Remote Time Tracking with QuickBooks Time (Formerly TSheets)
Tracking employee time can be one of the most important tasks performed by an employee for their employer.  Many small business owners have always had employees that work at job sites away from the office; plumbers, electricians, home inspectors, home healthcare, etc.  And if the past year has reinforced one business concept for business owners, it is that remote work previously done by an employee in the office will likely be a part of many of our business operations.  In fact, a recent study indicates that more than half of business owners believe that remote work is here to stay.
With this increasing trend toward remote work, businesses need a strong and easy-to-use tool for our employees.  Well, we have the tool that you were looking for and need.

Remote Mobile Timekeeping
Many trades have the majority of their employees working in the field at customer locations.  QuickBooks Time has a mobile app that allows these workers to clock in and out from anywhere on most any mobile device, such as a cell phone or tablet.  GPS tracking is a major component of the mobile app.  There are several reasons why GPS tracking is so important to employers, including:
Accountability – Cut down on third-party clocking in and time theft. Note that if an employee turns off location tracking while using the app, they will be clocked out and reminded to keep location tracking turned on.
Documentation – Allows employers to verify that the employee was where they said that they were at the time specified. This can aid in resolving billing questions.
Efficiency – When an employer knows where his employees are, they are better able to make sure that the right number of people are working on any particular project.
Flexibility – Employers can be more confident that employees are performing work assigned at the location, allowing for more flexibility. This increased flexibility often leads to increased staff morale, and ultimately to improved productivity.
Safety – Knowing where employees are can increase a sense of safety for employers.
Privacy – Employees can be confident that they are not being tracked when not using the timekeeping app. GPS location is recorded only when the employee is clocked in.
Remote Desktop Timekeeping
With more employees working from home and other alternate locations than ever, and with this trend likely to continue, accurately accounting for employee time when the employee is away from a central office environment is critical.  During the past year many employers have allowed employees to work from home for health and safety reasons.  Whether the employee is using a laptop or desktop computer, time tracking will be done in the same manner as when QuickBooks Time is used in the office.  An added benefit is that the IP address is captured when the employee clocks in and out.  This does not capture a physical location, like the mobile app does with its GPS locator, but it will help by indicating what computer the employee is clocking in from.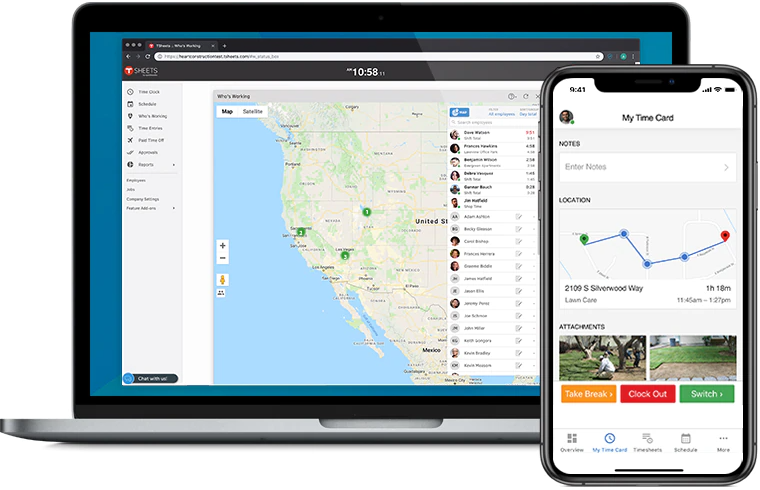 These features, and many more, make QuickBooks Time a feature-rich solution to meet employer timekeeping needs.  What's more, being a part of the Intuit family of software solutions, QuickBooks Time fully integrates with all versions of QuickBooks, both desktop and online.
Our Recommendation:
VARC Solutions wholeheartedly recommends employers deploy QuickBooks Time.
VARC Solutions is a business you can trust with your accounting, bookkeeping, payroll, sales taxes, training, and business consulting needs.  We're QuickBooks certified experts, and we're experienced integrators with QuickBooks Time, Avalara for Sales Taxes, QuickBooks Desktop, QBO, and others and we've been in business for over 21 years and have lots of happy clients and google reviews to demonstrate our value.
Contact VARC Solutions to find out how we can assist you, save you some money, and help you get back to your business.