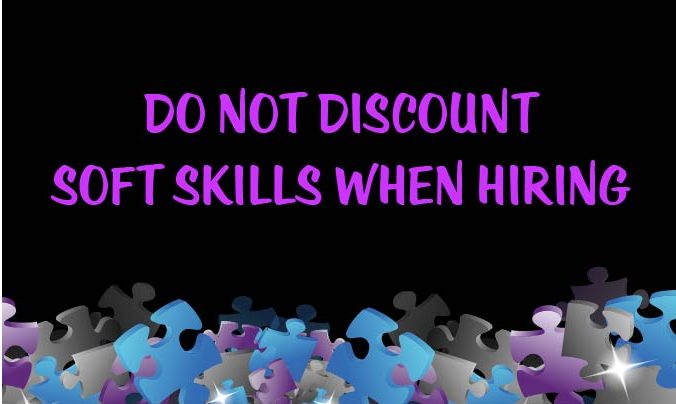 Do Not Discount Soft Skills When Hiring
Hiring managers tend to look for a very specific set of skills when considering job applicants.  While it's critical to ensure that every new recruit is capable of completing their assigned duties, it's equally important to look for soft skills.  Not only do these skills serve to round out each individual's profile, but they can do a lot for companies that are struggling with employee turnover, productivity, or morale.
Soft skills you should be considering
While specific technical skills can always be learned and refined over the course of time, many of the soft skills depend on the recruit's personal drive, morale, and sense of responsibility to the workforce – all things that aren't easily trained for.
– Strong work ethic:  Recruits with an exceptionally strong work ethic usually make great candidates – even if they don't match some of your other requirements.  A small investment in training and development can go a long way with these individuals, so don't be afraid to hire someone who has demonstrated a strong work ethic in their past experiences.
– Communication:  Make sure to hire communicative recruits whenever possible, especially if you're hiring for highly collaborative, team-oriented, or public-facing roles.  Be on the lookout for candidates who are confident, knowledgeable, and amiable, as they'll be able to supervise and direct others, delegate, and prioritize responsibilities and accept the directions of their own managers.  Finally, they're often among the first to provide feedback when implementing changes or new directives that affect the entire workforce.
– Flexibility and adaptability:  Although they're sometimes viewed as job hoppers who lack professional consistency, individuals who demonstrate flexibility and adaptability are incredibly useful to have on your team.  Not only can they serve as substitutes and replacements for other roles as necessary, but they're often ideal candidates for internal promotions.
– Teamwork:  While some roles are independent, most jobs require a certain amount of teamwork and collaboration on a day-to-day basis.  Consider each applicant's penchant for teamwork as well as their history of working in teams.  Great teammates are often quick to learn from their peers and they typically make great workforce leaders.
– Problem solving and conflict resolution:  Although this goes hand-in-hand with communication, the ability to effectively solve problems and resolve conflicts in the workplace is an entirely separate art form.  It's also a necessary skill for all of your organizational leaders, including workforce managers and supervisors.
– Critical thinking and observation:  We've talked a lot about the importance of communication, but it's also important that your employees are able to think critically and observe carefully.  Critical thinking skills not only complement their ability to solve problems and resolve conflicts, these skills also allow employees to overcome challenges, detect patterns, and notice potential problems before they arise.
– Emotional intelligence:  An individual's emotional intelligence describes their ability to express their own emotions and to interpret the emotions of others.  In short, it's a critical skill to have in today's workplace – especially with so much emphasis on cultural sensitivity and equal opportunity employment.
– Time management:  Don't forget to consider each recruit's ability to manage time. Although it might be difficult to determine from the start, you can easily monitor and assess this skill during the initial onboarding process.  Are they consistently late for their assigned shift, or are they showing up on time?  How do they deal with prioritization and delegation?  The answers to these questions can help you better understand each recruit's time management skills right from the start.
– Optimism:  Finally, try to find employees who are positive-minded and optimistic. While the skilled and experienced veteran might have the qualifications, they're often set in their ways, unwilling to try new things and, in some cases, downright grumpy.  Optimistic workers, on the other hand, are always looking for new opportunities to learn, eager to help others and pleasurable to be around.
As you can see, it's important to consider the applicant's soft skills as well as their hard, specific proficiencies.  This lets you build a well-rounded and productive workforce that is more than ready to meet the demands of the 21st century.
For more information on soft skills, or if you have any questions at all, don't hesitate to contact us at VARC Solutions right away.  Not only can we help you with your QuickBooks and Quick Base implementation, but we also offer software training, business consultation, and more.