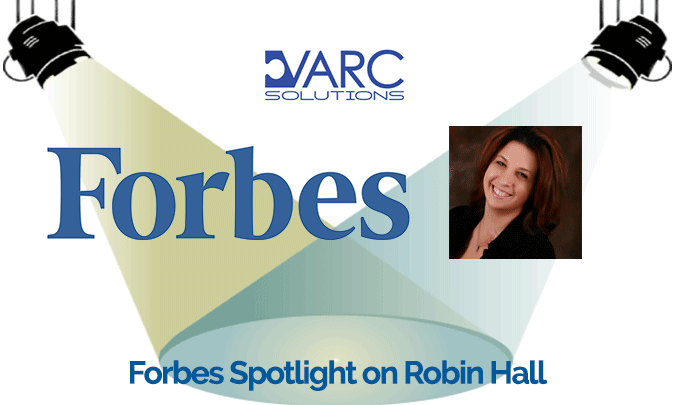 Forbes Spotlight on Robin Hall
Meet Robin Hall, President & Principal Consultant at VARC Solutions
"Real-time, accurate, accessible data is the future."
Forbes Finance Council is an invitation-only organization for executives in successful accounting, financial planning and wealth management firms. Successful leaders from world-class financial companies, each bringing a wealth of experience to the table. In this spotlight series, we profile our incredible members and share their advice with you. This week: Robin Hall.
Robin Hall is the President and Principal Consultant at VARC Solutions, which specializes in QuickBooks and QuickBase training and consulting.  Her specialty is taking small and large business clients to the next level and teaching them to be self-sufficient with their business. Robin is the developer of several tools that assist clients and peers alike; she is the developer of NAN Practice Manager (QuickBase platform), NEXT (Method Platform) and Q2QConnect.
How did your career as a finance executive take off, and what do you attribute your success to most?
When I started VARC Solutions, I set out to just help clients with their bookkeeping. When I saw the needs of my clients change, I was able to offer them additional services. I believe what helped me achieve the level of success I have is being able to listen to customers' needs, and then deliver what they need when they need it. Success for me only happens when everyone around me succeeds — both my team and my clients.
How do you keep yourself motivated and driven by your work, regardless of how busy you are day to day?
Keeping the end-goal in mind, and knowing that what we are doing matters to others and can change their lives — that is the motivating factor for me. Every day we have things on our "to do" list, and that list affect others and contributes to the big picture. If we ever lose sight of the big picture, then we are just moving from task to task and not meeting the needs of others. Keeping the end-goal in mind is an important thing that you can do on a daily basis.
What do you see as the future of the financial world?
The financial and accounting world is changing on a daily basis. Keeping up with the way folks view and acquire data will be of the utmost importance. Real-time, accurate, accessible data is the future.
What is your best finance-related tip for businesses?
If you're a business owner or an advisor, make sure that you come out of the weeds and look at the big picture. We all can get hung up in day-to-day tasks, and we need to make sure that our compass is still aligned through all of this. Our alignment — our success — is measured differently for all of us. Are we growing as we want, are we providing the service that we want, are we educating our staff to fit their needs?
How is this a financial tip? I believe that if you do what is right and what you love, and you do it well, then the money will follow. You need to know what lies at your feet and make sure that you read the signs correctly.