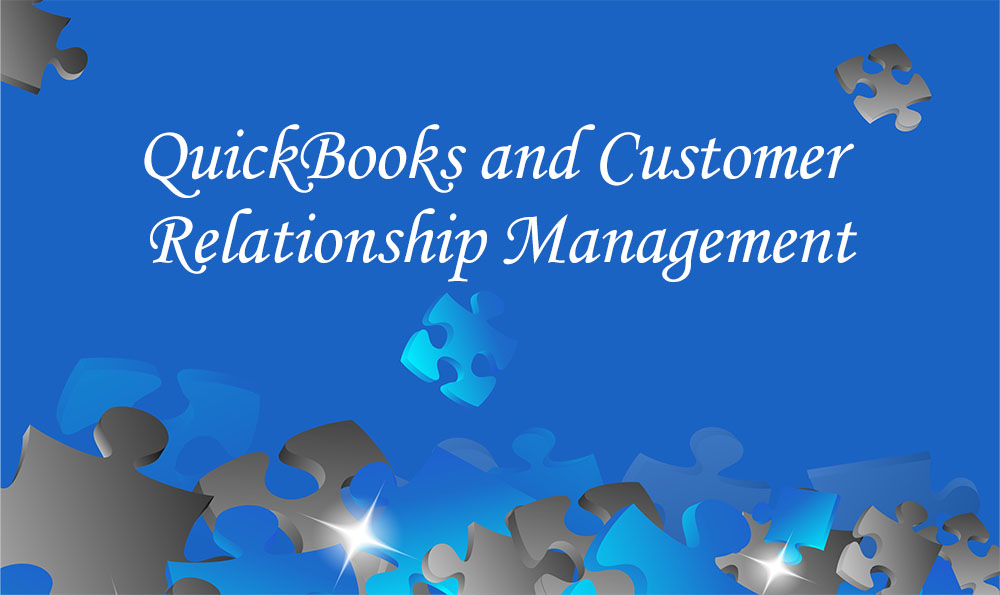 QuckBooks and Customer Relationship Management
QuickBooks and customer relationship management (CRM) software are modern ways to seamlessly manage company and customer information. If you are not integrating your CRM and QuickBooks, your process is probably not as efficient as it could be. Using several types of software to manage your CRM and accounting means double work, longer processes, and more room for errors.
However, both software systems have several benefits that can change the way you do business. When you integrate your CRM with QuickBooks, you get the best of both worlds, plus these advantages:
You get a 360-degree view of the customer's information.
It speeds up the business process.
It improves efficiency.
It eliminates duplication in both systems.
It is cost-effective.
You get a 360-degree view of the customer's information
Your CRM handles information that helps you grow and maintain your customer base, such as for sales and marketing. QuickBooks manages details related to customer purchases and much more. Combining these two together gives your business a full view of how you handle your customers.
This move can help you improve business operations.
It speeds up the business process
Reducing information duplication and limiting data entry in two systems will revamp your workflow. A new process with fewer steps saves time and boosts productivity. Once you convert a prospect into a client, you can still maintain their sales records in one central location.
Merging your accounting and CRM software no longer requires you to switch between systems to have information access.
It improves efficiency
Suppose a client calls to dispute a bill. Without the integration, a customer service representative would have to switch systems or send the call to another department. Integrating your system will put customer satisfaction at the forefront.
Agents can avoid annoying transfers and long waits that customers despise. With all information at their fingertips, customers can more easily resolve problems.
It eliminates duplication in both systems
Creating a single integrated system for your CRM and QuickBooks allows the CRM to be your core platform for customer information. QuickBooks is the extension, providing specifics about later stages after the sale, such as billing and shipping.
There's no need to have an extensive customer profile in both systems, which prevents accidental duplicate information.
It is cost-effective
Investing in a new system will not burn a hole in your bank account. In fact, it will do quite the opposite. Productivity and workflow improvements enable your business to service more clients and generate more revenue.
Innovations in technology, such as cloud computing, have also made integrations more affordable and accessible. Some systems allow you to schedule or immediately sync your business information with the click of a button.
The best way to integrate your CRM with QuickBooks
There are two different ways to connect your CRM system with QuickBooks through software integration. You can use Method CRM or Quick Base. Each of these handles the integration process in different ways.
Method CRM
This software directly integrates with any QuickBooks version for you to manage customers from one location. It keeps prospects in a separate space for you to manage them properly through every marketing and sales channel.
Once they buy into your services, you can easily sync them to view sales activity, transactions, and profiles from one central area.
Quick Base
Imagine a solution that collects your company data and organizes it into empowering information. This information will help you improve client acquisition and retention. That is what you will find in Quick Base.
Combine this database with QuickBooks, and your business has a superpower to meet service and financial goals. The only system capable of pulling this off is Q2QConnect.
Q2QConnect
VARC Solutions developed Q2QConnect to easily integrate Quick Base and QuickBooks. The user-friendly interface requires no high-tech skills. The tool has a bidirectional capability for you to transfer and access information from Quick Base and QuickBooks without switching systems.
Quick Base has connection capabilities to all levels of QuickBooks Desktop, and the simple setup takes 10 minutes or less. After a few steps, you can transfer employee information, client data, and more.
Enjoy the benefits of affordability, a quick and easy setup, and a simpler process that eliminates errors and export support. You are just a few clicks away from a seamless workflow and faster process.
The experts at VARC Solutions can help improve your business processes
Why switch between two systems when you need all the information to operate fully? Integrate your CRM with QuickBooks to improve the way you do business. Q2QConnect by VARC Solutions is the quickest, easiest way to connect QuickBooks to Quick Base.
Our innovation lets you get back to your business efficiently. For assistance with your integration, contact VARC Solutions, your one-stop shop for all your accounting needs.