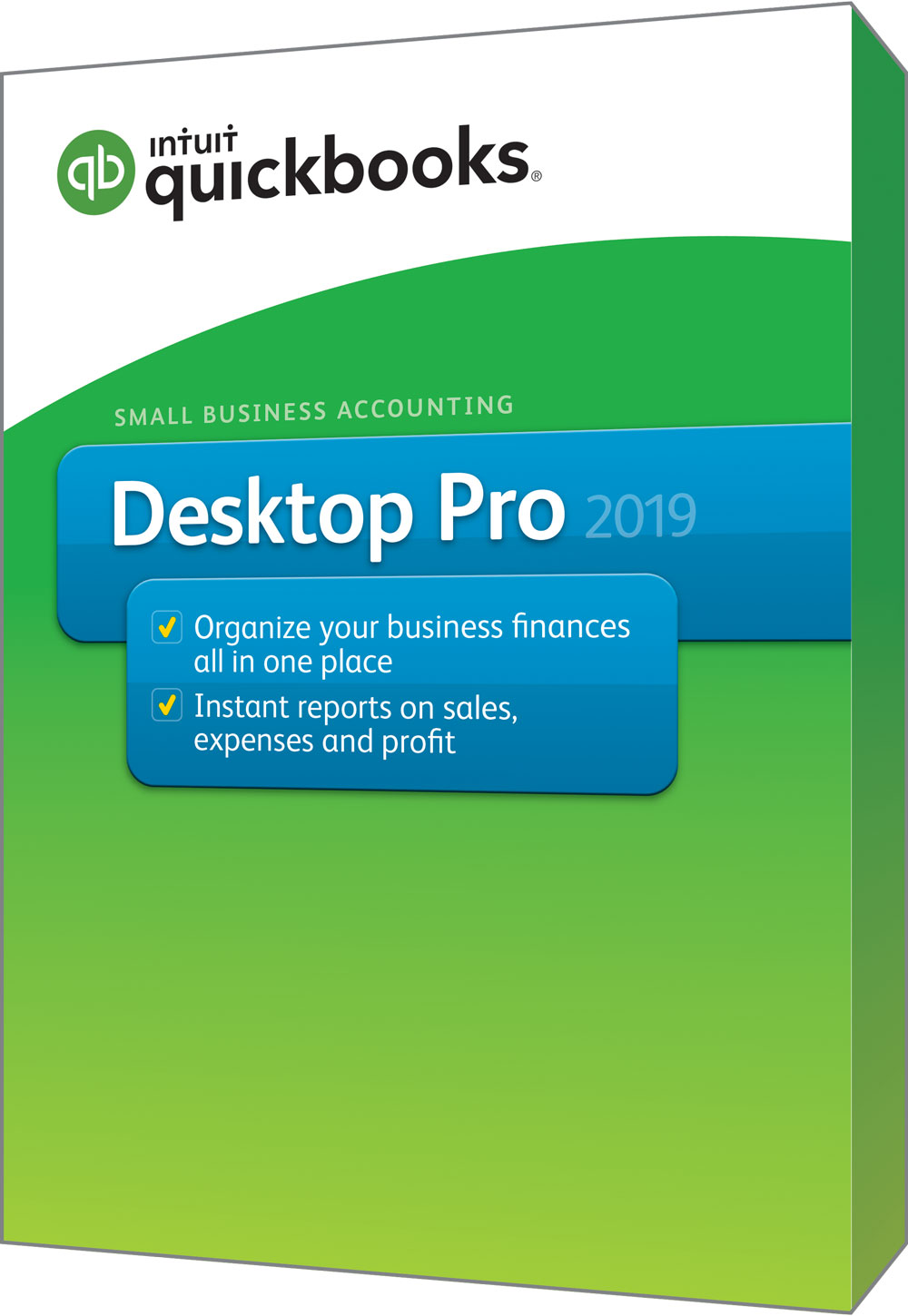 Find Out what QuickBooks Pro can do for you!
The #1 Accounting Solution.


Get QuickBooks Pro or Try the Online Version Free.
Create Invoices Easily · Fast & Easy Setup
New in QuickBooks Desktop Pro 2019
Can I install QuickBooks Desktop Pro on more than one computer?
Yes. Your license lets you install the product on up to 3 computers. It also has a multi-company feature.5
What's the difference between Desktop Pro and Premier?
The Premier product allows up to 5 users while Pro allows 3. Premier also has more reports. You can find more on Premier here.5
What's the difference in capacity between Pro, Premier and Enterprise?
Pro and Premier tracks up to 14,500 items, while Enterprise tracks up to 1 million customers, vendors and items6. Learn about Enterprise.
Desktop System Requirements
Windows 7 SP1, 8.1 Update 1, or Windows 10 update/version supported by Microsoft
Windows Server 2008 R2 SP1 or SP2, 2012 R2, or 2016
2.4 GHz processor
4 GB of RAM (8 GB recommended)
2.5 GB disk space recommended (additional space required for data files)
4x DVD-ROM drive (unless user is downloading from Intuit server)
Payroll and online features require Internet access (1 Mbps recommended speed)
Product registration required
Optimized for 1280×1024 screen resolution or higher. Supports one Workstation Monitor, plus up to 2 extended monitors. Optimized for Default DPI settings
Important pricing terms, offer details, and disclosures
Hours exclude occasional downtime due to system and server maintenance, company events, observed U.S. Holidays and events beyond our control. Without Plus subscription, standalone Annual Care Plan MSRP $299.95.
1.Standalone Online Data Backup MSRP $119.40. Entire PC is limited to 11GB total storage which includes all 45 days of backup you have stored. Data encrypted using AES 256-bit encryption. In order to back up files on a server, the filers must be closed. Requires internet access and QuickBooks Pro (Premier) Plus. Not available to QuickBooks for Mac or QuickBooks Online users. Not intended as a file transfer, remote access solution for your QuickBooks file. Intuit Data Protect is not intended as a HIPAA solution and its use will not assist with or ensure HIPAA compliance. Hours exclude occasional downtime due to system and server maintenance, company events, observed U.S. Holidays and events beyond our control. Subject to change at any time without notice. Data Recover Service: Coverage begins at the time of enrollment and ends upon cancellation of stated term length. A copy of data can be requested and typically takes 15 days to arrive by mail. Only new data recovery issues that arise after Plan enrollment are covered. Coverage is included for standard turnaround service only. Fees apply for expedited subscription. Without Plus subscription, standalone Online Data Backup MSRP $119.40.
Upgrades will be provided if and when they become available
Scheduled reports is not available in Multi-User mode, in hosted deployments, or when there are multiple versions of QuickBooks 2017 installed.
A purchased QuickBooks license allows for more than one company file, but does not support different company files to be opened simultaneously. Only one company file may be open and managed at a time. You may: (a) install the Software on the number of computers equal to the number of user licenses you purchased; (b) access and use the Software solely by the number of specific persons corresponding to the number of user licenses you purchased, with no substitution of such users (for example, if you purchased a 3 user license pack and you have 10 employees in your company, the original 3 specific persons who were initially provided with access to and use of the Software, are the only persons licensed to use the Software unless you purchase additional licenses; (c) place a copy of your software data files on a network for access by licensed users; (d) install the Software on 1 additional computer above the number of the license(s) you purchased, solely to accompany your software data file, and not for use of the Software by another user; and (e) for each user license you purchased, make one copy of the printed materials accompanying the Software, if any, or print one copy of any online user documentation solely for use by licensed users. Notwithstanding (b) above, you may replace a specific user if such user leaves and must be replaced with a new employee. The maximum number of simultaneous users (users accessing the file at the same time) for QuickBooks Pro is three users and Premier Edition is five users. All users must be networked and must each have their own QuickBooks license.
QuickBooks Desktop Enterprise allows you to add up to one million names (e.g. customers, vendors, employees) and up to one million items (e.g. inventory, non-inventory, and service items). Some performance degradation is likely as your lists approach these size thresholds.