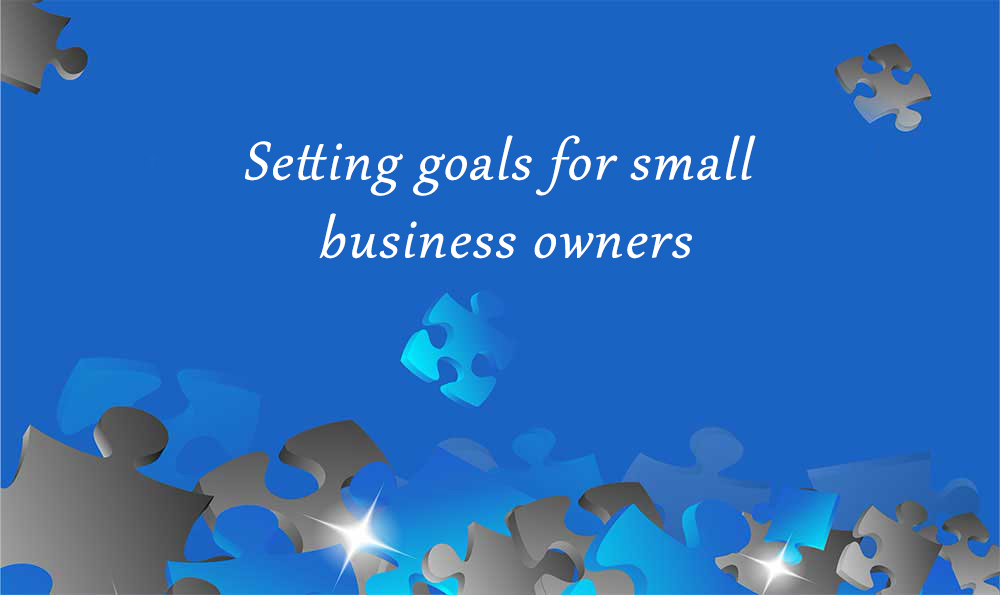 Setting goals for small business owners
4 MIN. READ
While we often spend time thinking about our goals, writing down our goals, and even talking about our goals, some of us have tremendous difficulty when it comes to completing them.  But while it's important to remember to set goals, this is only half of the equation.  To get the full benefit of this practice, you need to see them through and reward yourself in the end.
Remain focused on the future
Never lose sight of the future. Whether you have your mind on tomorrow's responsibilities, weekly milestones, or yearly accomplishments, it's important to remain focused on your goals and make forward progress as often and as consistently as possible. This is easily achieved by:
Writing down your goals: Make sure to write down your goals as you create them. Not only does this list let you refer to older, long-term goals, but it makes it easy to track your progress as you accomplish each objective.
Sharing your goals with others: Don't be afraid to share your goals with others, including your friends and family members. They can provide valuable support that will go a long way in making your goals a reality as soon as possible.
Setting team-oriented goals: Try to set team-oriented goals whenever possible. Your entire team can hold each other accountable, and you can likely take on even bigger challenges.
Rewarding yourself (and others): Finally, take some time to recognize the efforts of everyone involved in the attainment of a particular goal. Not only does this provide them with greater motivation in the future, but it compensates them for the extra time and effort the put forth in the first place.
Ensure your employees stay informed
It's important that you keep your employees informed on any goals, objectives, or expectations that directly involve a specific team or the company. You can do this in a number of different ways:
Conducting meetings and conferences: Hold meetings to broadcast any new goals and to provide progress reports for your team. This is often the easiest method, but some team members might be more receptive to other strategies.
Distributing written materials: Hand out small pamphlets or, if necessary, detailed handbooks to make everyone aware of your business goals.
Posting promotional posters and signs: You might also consider hanging promotional posters, signs, and banners around the workplace. This is a great way to broadcast new goals, provide reminders, and give updates on previous accomplishments and track progress toward future achievements.
Testing their knowledge: If necessary, test your employees' knowledge with quizzes and flashcards. Not only does this ensure that they're informed on any goals, but it can be used to help clarify individual expectations too.
Keep your company's financials up-to-date
You should always keep up-to-date financial information about your business, but it's even more important when you're actively setting and pursuing goals that affect your company's profitability. After all, how do you expect to set relevant, attainable goals or track your progress if you're not sure of what you're reaching for?
Collecting the important information: Start by gathering the most important information. This varies depending on your company and even your industry, but it typically includes data relevant to your customers, your employees, your company's expenses, and your current revenue.
Working with big data: Big data is your friend. Don't be afraid to take a deep dive into the worlds of big data, artificial intelligence, and machine learning. While all of these breakthroughs are still in their infancy, they can bolster your data collection efforts and provide more accurate, relevant, and actionable results.
Using updated accounting software: Don't forget to update your accounting software to take advantage of the latest features and functionality. If you're still undecided on which software solution to use, you might consider Intuit QuickBooks or Quick Base. Both of these products include all the fnctionality needed to run a business in the 21st century, and have highly active user communities and tons of plug-ins that provided extra features as needed.
Creating benchmarks to track future progress: Make sure you're creating milestones and benchmarks along the way and that you're tracking these milestones alongside your goals. Not only does this make it easier to stay on track, but it also gives you a series of smaller, easily attainable goals to pursue as opposed to one large, intimidating objective.
Attaining your goals with the help of VARC Solutions
If you need help reaching your latest business goals, or if you need help integrating Intuit QuickBooks or Quick Base, contact us immediately at www.varcsolutions.com. We have professionals who are standing by and eager to begin working with you right away.