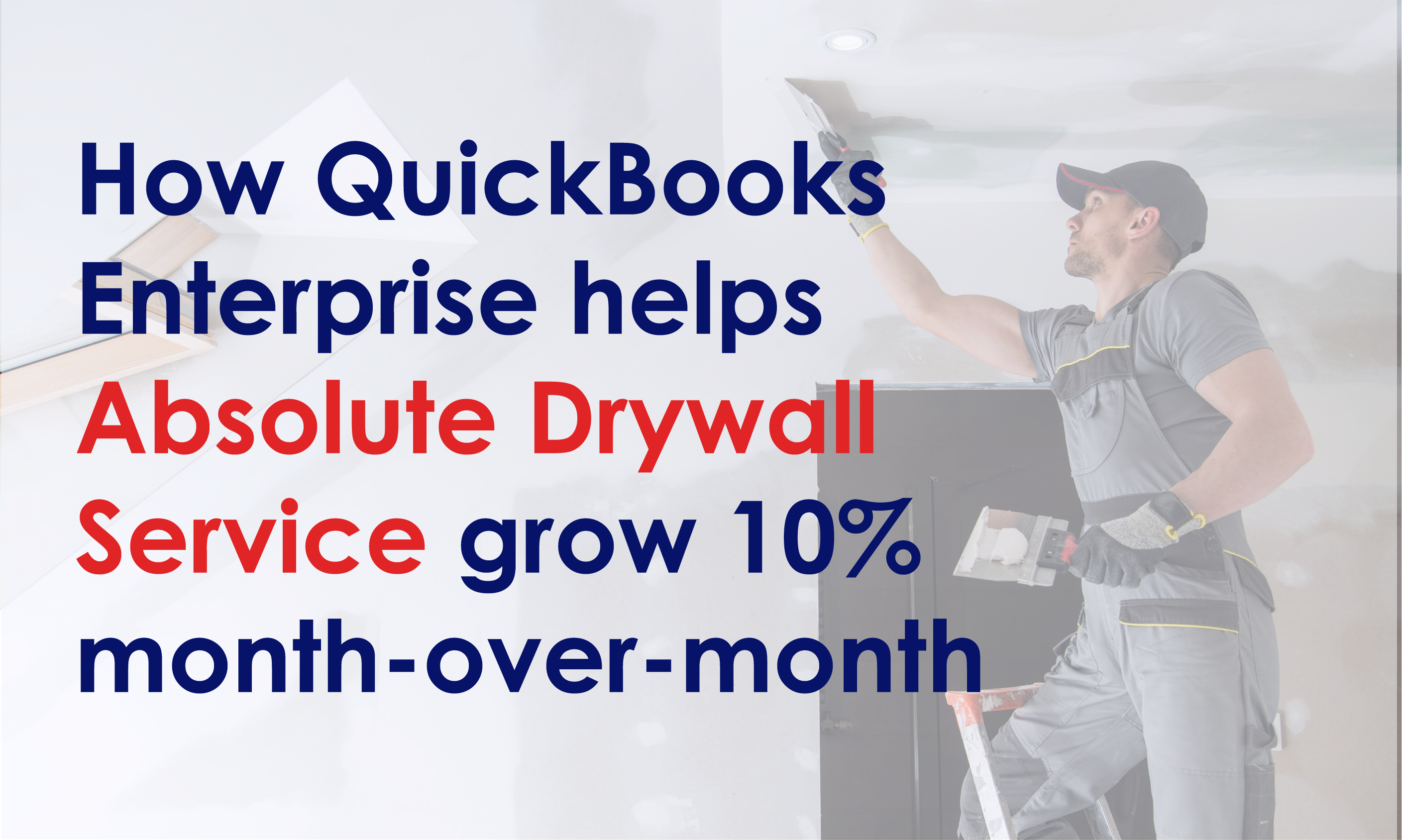 How QuickBooks Enterprise helps Absolute Drywall Service grow 10% month-over-month
By Loni Klara
Absolute Drywall, a residential and small commercial drywall installation provider, grew 212% in 2013-2014, and has been growing consistently at 10% month-over-month since May 2018
The company started by working with 4 houses per month, grew to work with 300 houses per month at their peak, and now aims to work for a minimum of 100 houses per month
With QuickBooks Enterprise, Absolute Drywall created a job costing system that can track profit margins by specific addresses, communities, or builders.
As August 2017 drew to an end, Absolute Drywall's chief operating officer Jennifer Speck braced for trouble.
Her construction company's office in Pearland was about to go underwater with Hurricane Harvey fast approaching. Desperate to save her accounting and financial records, she got in touch with her mentor Robin Hall, a QuickBooks Solution Provider at VARC Solutions, to try and salvage what she could at the last minute.
"When the water was rising, Robin called me back and I was in panic mode. She said, 'We need to make sure you have a full backup and you need to transfer it to me,'" says Jennifer.
So Jennifer immediately called Intuit and told them that her server could be underwater in the next 10 minutes.
Unfortunately, Jennifer was right. Absolute Drywall lost everything under 36 inches of water, including their paperwork and all but one of their computers. Fortunately, Jennifer had acted quickly and was able to save her QuickBooks file containing all the company's financial information.
"If I wouldn't have had those financials, I would have been in a world of hurt because everything was gone. We took on three feet of water and it was horrific," Jennifer remembers. "That's something I learned from Harvey. Make everything electronic." It was a lesson another QuickBooks Enterprise customer learned over a decade ago from Hurricane Katrina.
In Hurricane Harvey's aftermath, the company transferred everything to the cloud. Every document was scanned and entered into QuickBooks. Their process was so meticulous that they shocked their CPA during a recent tax audit.
Jennifer recalled the CPA said, "I've never had a sales tax audit that didn't take two to three days."
Absolute Drywall's took two hours.
This efficiency was a direct result of Absolute Drywall's team inputting vital documents into QuickBooks Enterprise, making it simple and easy for anyone to access the information they need at a moment's notice.
Choosing a cost-effective software solution
In their old office, Absolute Drywall had shared space with an electrician. Jennifer watched as he spent $1,000 on hiring a consultant just to clean up his accounting software. That was on top of the $10,000 he was already paying per month for the license, as well as $5,000 per month for each additional software module.
"A custom home builder may have 40 different plans or models and you're probably only using 20 of them at any given time," explains Jennifer. "Why would I want to spend $10,000 a year on software, and then buy extra modules, when I've got exactly what I need with QuickBooks?"
Jennifer credits Robin and her team at VARC Solutions with setting Absolute Drywall up for smooth sailing from the start and providing steady support along the way. When Absolute Drywall first started with Quickbooks Enterprise, Robin assigned Jennifer specific tasks relevant to the exact features she needed to use right away.
"VARC Solutions' slogan is 'Letting you get back to your business' and it's really true," says Jennifer.
Software that grows with the business
As Jennifer's experience with Hurricane Harvey shows, having the right business management software is extremely important. But even more crucial than that is knowing how to actually use it.
We took on three feet of water and it was horrific.
"With QuickBooks, you can build incrementally for what your needs are," Jennifer explains.
One of the features that would grow extremely important was job costing. Although Absolute Drywall knew only of the possibilities at the beginning, they learned how to build their job costing system with QuickBooks Enterprise.
"We have three levels for our clients: We have the builder, the community, and then the actual address, that's how we go through each one. That way you can get the profitability on the address, on the community, or on the builder."
This system makes the business much more manageable as Jennifer can now see profit margins for each job or client. So instead of scrambling to see if there's enough money in the bank, she now knows exactly what she needs to do to keep the cash flow healthy.
"It's a shift from working in the business to working on the business," she says.
Similarly, when their bank account was compromised a few months ago, they had to close the account and open another. But of course, it wasn't that simple. Their previous account was still receiving direct deposits and the transition period could have gotten messy. Yet the color customization they used in their register on QuickBooks enabled them to clearly and quickly see which transaction belonged to which bank account.
It never would have occurred to Jennifer to look out for those features from the beginning. But as the business grew, QuickBooks's features grew with it, ensuring their business operations ran smoothly.
Currently, Absolute Drywall uses QuickBooks for the following:
Purchase orders
Inventory
Payroll
Invoicing
Job costing
Processing credits
Income tracking
Reporting.
On top of these native features, they also use integrations like TSheets and Quick Base.
Rapid growth while staying lean
From 2013 to 2014, Absolute Drywall grew by 212%. While the growth was most welcome, it didn't come without its challenges.
Construction is a tough business, and though Absolute Drywall has a great reputation for consistently meeting build times, it's a relentless race against the clock. It didn't help that Houston's rapid development now has them working a large service area up to 70 miles from their office.
When Absolute Drywall first started in 2012, they worked on four houses a month on average. During their peak, that number jumped to 300. This period of explosive growth taught Jennifer how to plan for controlled growth and how to better manage their cash flow.
"10 to 15% is where I feel comfortable when growing staff and making cash flow adjustments," she explains.
The long-term goal is to maintain at least 100 houses each month to break even while sustaining their current growth rate of 10% month-over-month. It also means gaining a better understanding of cycles in construction. For instance, Jennifer expects a 0% to negative growth rate in Q4 when there are typically fewer construction projects.
QuickBooks is a key part of their planning process. Job costing helps them keep their pricing on track. The Memorized Transactions feature enables them to anticipate overhead expenses and the Reminders Dashboard prevents things from slipping through the cracks, especially during busy growth periods.
Why would I want to spend $10,000 a year on software, and then buy extra modules, when I've got exactly what I need with QuickBooks?
They do all that with just six people in the office every day. Jennifer handles accounts payable, inventory, incoming jobs, warranty, and scheduling with the help of three others on the team. They also have an operations manager for the field and a safety and technology manager (who happens to be Jennifer's husband).
"We're lean because we can be. I've always felt like it's better to have fewer people that are productive than more people that are just more people," says Jennifer. "We're all cross-trained of course. That's how you keep it a small staff."
Their philosophy is to stay hungry and humble, and avoid doing double work at all costs."I hate doing double work and we don't have to with QuickBooks," Jennifer says.
Paying it forward
Jennifer regularly recommends QuickBooks to colleagues in her community who are having challenges in managing their business. One of her friends, the owner of a plumbing company, was worried QuickBooks would be too difficult to use.
After Jennifer sat down with her friend to show her QuickBooks, her friend was impressed with its ease of use and capabilities, saying, "I didn't realize I could do all of these things."
What Robin did for Jennifer, Jennifer does for others to help them whenever she can. From her own experience, she realized that most people learn by doing. "You've got to have someone that can show you in a progressive way that you learn," says Jennifer.
One piece of advice she got from Robin was particularly useful when it came time for Jennifer to hire and train her employees: "When you're hiring it's OK if a candidate doesn't have QuickBooks experience. You can teach people QuickBooks. Everyone's going to use it a little bit differently, and that's what's wonderful about it."
Originally published on QuickBooks