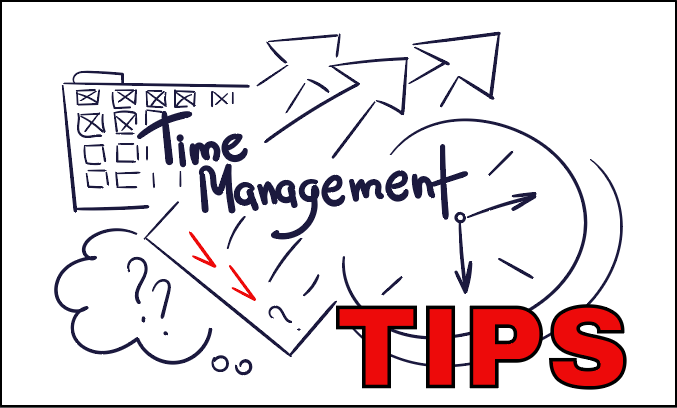 Tips for Better Time Management
At VARC Solutions we have heard many small business owners talk about the experiences, the ups and downs about running a small business. People that are not business owners sometimes have an ill-conceived conception of the joys of business ownership. One of the most interesting topics during these discussions is the misconception that "you are your own boss." While this is true in theory, the reality is that if you are a client-facing business, then you have as many bosses as you have clients.
In light of this fact, it is very important for business owners to be adept at time management. Typically, a business owner knows what to spend more time on and what to spend less time on; it is, of course, a balancing act. The client must always be dealt with in as timely a manner as possible, but that does not necessarily mean they have to drop everything and jump on a client request immediately. And while some of us struggle with managing time, there are others who are masters of this universe.
The business owners who seem to be the best at this are the ones who are able to maintain focus in the face of the many demands that come their way each day, at times simultaneously. Below are a few of our top time management tips.
Efficient Calendar Use
Scheduling appointments and staying on schedule, as opposed to just putting out fires as they come up, helps business owners maintain focus on client tasks. It also helps them keep track of internal tasks that need to be performed. For instance, if you know that you have to run payroll every Monday, schedule this as a calendar activity. Even if it is done after regular business hours, it is scheduled and less likely to be pushed off to a later time. Similar to keeping a calendar is maintaining a running list of important tasks that need to be completed. For one, this assures that these will not be forgotten; jot down a new task while in the midst of a conversation with a client. If a task has multiple parts, especially parts that will not be performed one right after the other, having a list will prove essential. Your calendar now becomes a continuous checklist and you can cross off the completed items as they are performed. This will keep you on track to complete the entire sequence.
Declutter Email Inbox
Many people will use email as a to-do list. This can work, but it has been found to be a less effective solution for time management. Many small business owners have become proficient at a different strategy that is more effective; the zero inbox. First off, no emails should remain unread, or not deleted, for more than 24 hours. If it is junk, toss it as soon as it comes in. If it requires a quick one-minute reply, then do that now. If it requires action, schedule time on the calendar to complete the action or assign that action to a staff member.
Plan and Review Upcoming Tasks
It has been found that organizing the next day's tasks the night before is a quick task that can be very beneficial. Then, at the start of the next day, review your plan for the day. As often as not, a small task will come to mind that needs to find its way into your day. By doing these planning and reviewing exercises, you keep your day focused on the tasks at hand.
Understand When to Say No
There will be many demands placed on your time and determining that some of them have to be declined will help you manage time more effectively. If you have been asked by a colleague for assistance, but your day is completely full, you probably need to say no; you might be able to come back to it later, but right now there is no time and it would derail your own schedule.
Remove time spent 'Waiting For Something To Happen"
If, for instance, you have a doctor's appointment and have to wait for your turn, have your phone or tablet handy; make some follow-up calls, or answer emails while you wait. While it is important to see that everyone needs time to relax and unwind, 15 or 30 minutes in the middle of your day can usually be put to good use rather than being wasted waiting.
Know When and How To Delegate Tasks
Delegation is hard but it is really synonymous with trust; you are handing off a task or a responsibility and you are trusting that person to not only perform the task but to perform is as well or better than you would have done it. If you are reluctant to delegate, start small and give a task, follow up to make sure that it was done, and review if they had any problems or concerns. Going forward you will know that this task is able to be done and you will feel confident about passing that particular type of task and then you can add another. Never have someone "drink from the firehouse" of things that you need off of your plate, but rather start out simple and build on success. This will help any business owner focus on what they do best; growing the business.
Should you need assistance working through any of these time management strategies, give us a call; we are available to consult with you on making your business run more efficiently. If you need help keeping up with your QuickBooks file or any other bookkeeping issues so that you can maintain focus on running your business, get in touch with VARC Solutions. Our team of QuickBooks ProAdvisors and bookkeepers is here to provide needed assistance and "Let you get back to your business."