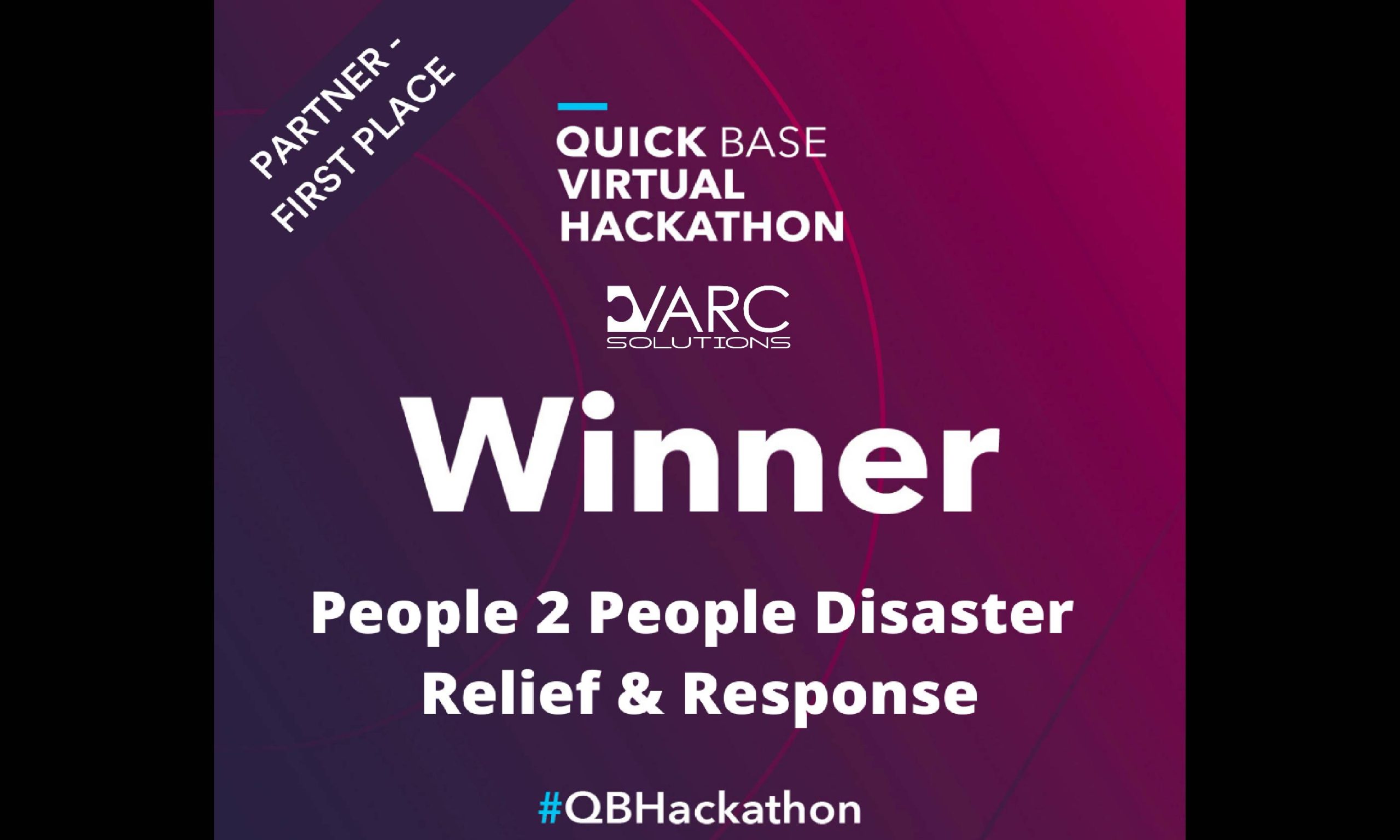 Quick Base 2020 Virtual Hackathon
VARC Solutions is a nationally recognized Quick Base consultancy, and as such, keeps abreast of opportunities to develop meaningful Quick Base applications with real-world use. The team of architects, project managers, and application developers have built hundreds of Quick Base apps for clients across the United States.
Announcement
In September of 2020, Quick Base announced that this year's hackathon, normally held in conjunction with their annual Empower conference, would be virtual. The contest was open to anyone who develops apps on the Quick Base platform. Final submissions for the hackathon were due November 16, 2020. Participants were eligible to win a portion of $250,000 in prizes.
Submissions were to focus on four categories.
Connection: Solve a problem with an app to forge stronger connections across disparate systems, a remote workforce, or key communities.
Responsiveness: Create an app that will enable an organization to rapidly change in response to disruption, such as automating processes, responding quickly with flexible systems, and using real-time insights to empower decision making.
Equity: Build a solution that helps address sustainability, diversity, and other current issues affecting the workplace.
Security: Look for a solution that keeps employees, customers, and communities safe, maintains and strengthens data security and privacy, and/or manages regulatory compliance.
Contest judging criteria included originality of the idea, scope, and impact, and implementation of the application. Judging was to be performed by internal and external judges – within and outside of Quick Base.
The VARC Solutions Application
VARC Solutions developed People 2 People, an integrated solution comprised of five individual, relational applications with a mission to save lives and restore communities hit hard by life-threatening disasters. Leveraging our prior experience in application development following Hurricane Harvey in 2017, and the COVID-19 outbreak this year that connected restaurants, donors, local community leaders, and those in need meet real financial and nutritional needs, we wanted to build something on a grand scale that could enable disaster relief around the country, and potentially around the globe.
Response Teams monitor disasters around the world using the Disaster Tracker App. When a new disaster is added, crucial information, such as start date, name, status, type, description, estimated persons affected, and estimated damages is entered. Additionally, the affected area can be zeroed in on by state and zip code. The API integration, wrapped inside a pipeline automation, imports associated zip codes for the impacted states, allowing for easy editing to fine-tune support resources and outreach. Over time, users can directly see the impact they are making.
Active Disasters automatically flow into the People In Need Collector App and Resource Partner Collector App using a cross-app relationship. The Everyone on the Internet Form collects support requests for related disasters. Resource partners and Applicants are asked to opt-in to emails for optimal communication. The MailChimp pipeline integration sends encouraging welcome emails to both Applicants and Partners.
Using another pipeline integration we forward applications and partners to our management applications. The Financial Support Management App is where requests, partners, pledges, and disbursements are managed. Financial requests are then matched with partner pledges. The Response Team Reviewers and Administrators have a dashboard that guides their work reviewing requests, approving requests, and adding pledges from approved partners. Reviewers confirm details and recommend courses of action. When disaster strikes, it is very important to scale quickly with minimal team training. To do so, questions are provided on-screen, as well as applicant-supplied answers to simplify the process. Response Team Managers approve requests.
Using native Quick Base automations, we generate a disbursement request, for the accounting team to review and send out. Approved applicants are emailed using Quick Base notifications. On the Response Dashboard, the team contacts each partner to confirm pledge details.
Finally, the Meals Support Management App is where we manage requests, partners and meal pickups to get crucial food supplies to families in need. With the meal request approval process adding meal pickups for partners or adding meal pickups based on requests left to fulfill is a breeze. During this process, a unique pickup code is assigned to each person in need.
Additional items for future consideration would be the use of Q2QConnect to streamline an accounting department workflow using QuickBooks to the Financial Support Management Application in Quick Base, and the integration of TSheets with Quick Base to track volunteer hours back to a given disaster to communicate to donors the efficiency of our operation.
Results
Drum roll please…
VARC Solutions was awarded First Place Partner Winner of the 2020 Virtual Hackathon.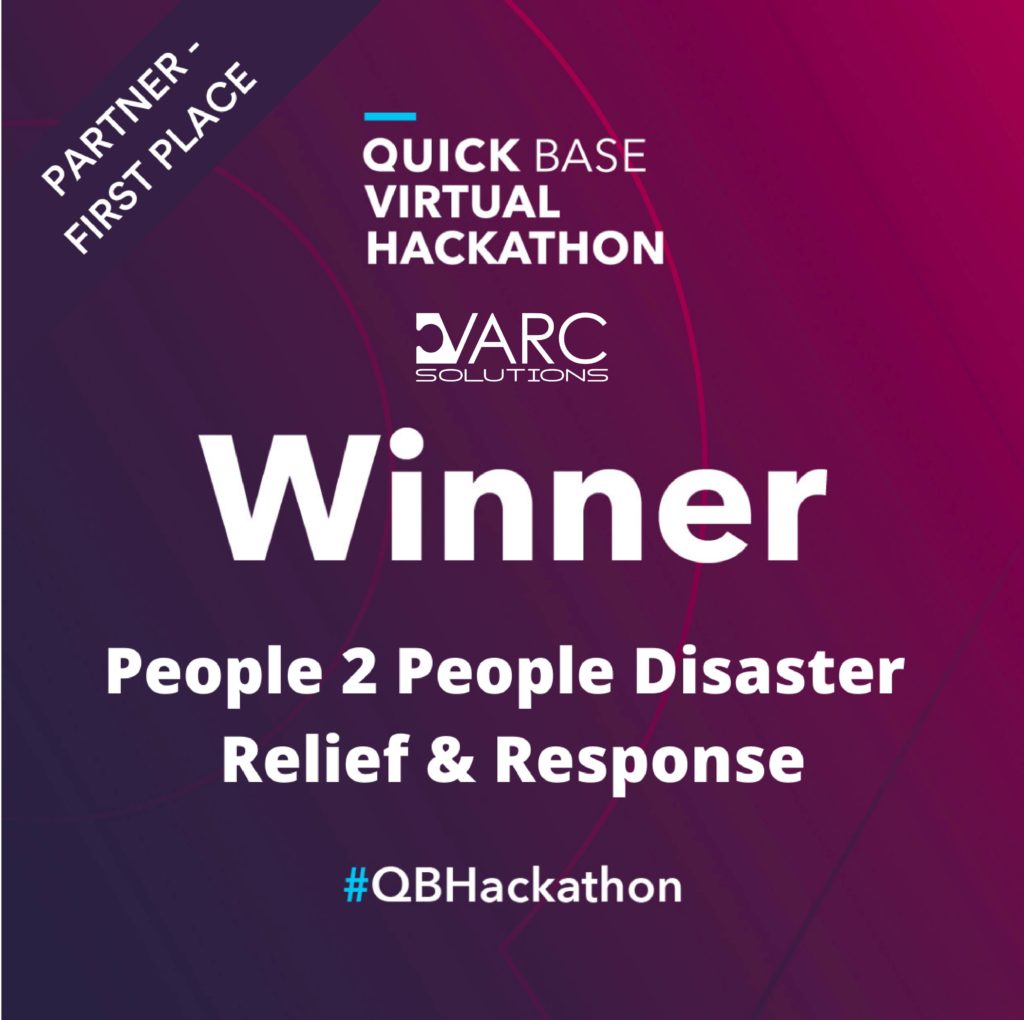 Contact VARC Solutions to find out how we can assist you in determining how a Quick Base Application can streamline your business processes and help your business address pain points. As a Silver Partner, we are well versed in the intricacies of Quick Base development.