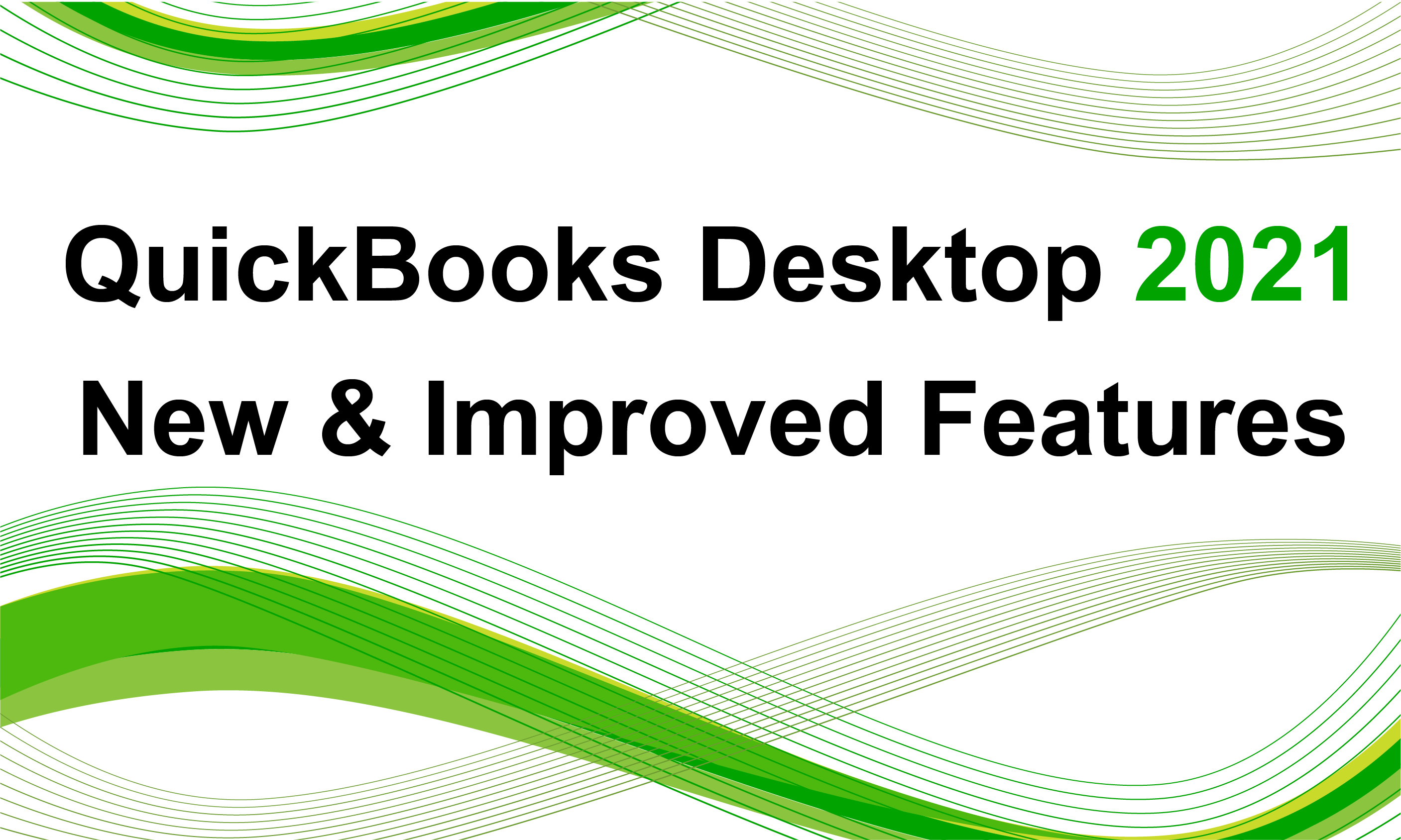 QuickBooks Desktop 2021 New Features
QuickBooks Desktop is perfect for small businesses that need scalability for their financials; several versions are available, and each has been upgraded for 2021.  VARC Solutions, staffed by a team of certified QuickBooks ProAdvisors® can guide you to the version that best fits your business needs.  Intuit annually updates QuickBooks to add or upgrade features.  In this article we will shine a light on some of the new and upgraded features, describing how they will make running your business easier and more efficient.
For all versions of QuickBooks Desktop; i.e., Pro, Premier, Accountant, and Enterprise
Productivity has been increased in all versions of QuickBooks. With increased automation, users will now be able to:

Quickly categorized transactions with improved bank feeds
Automatically send statements
Create Customer Groups for effective outreach
Customize Payment Receipts
Review customer invoices with PDF Preview
Manage your desktop products with QuickBooks Desktop Manager
Easily find QuickBooks tools with the Tools Hub
Intuit has rolled out a subscription model for Pro and Premier, similar to the model for Enterprise, where the user can purchase the software via an annual subscription.  These are the Pro Plus and Premier Plus versions.  Additional features are present in these Plus versions that are not available in the one-time purchase of Pro or Premier.  Note that these features are also available with Desktop Enterprise subscriptions.
For improved Receipt Management, business owners who spend time to enter expense receipts manually can now efficiently import the receipt images captured through their mobile apps and easily review and match them before adding the transactions to the register. In doing so, they can alleviate three pain points common to business owners; manual entry of receipts – data is extracted from an image using an AI/ML algorithm to create a transaction for review, lost receipts are a thing of the past when an image is taken at the time received, and the need to store physical copies of receipts for audit up to 7 years is removed when receipts are digitally stored.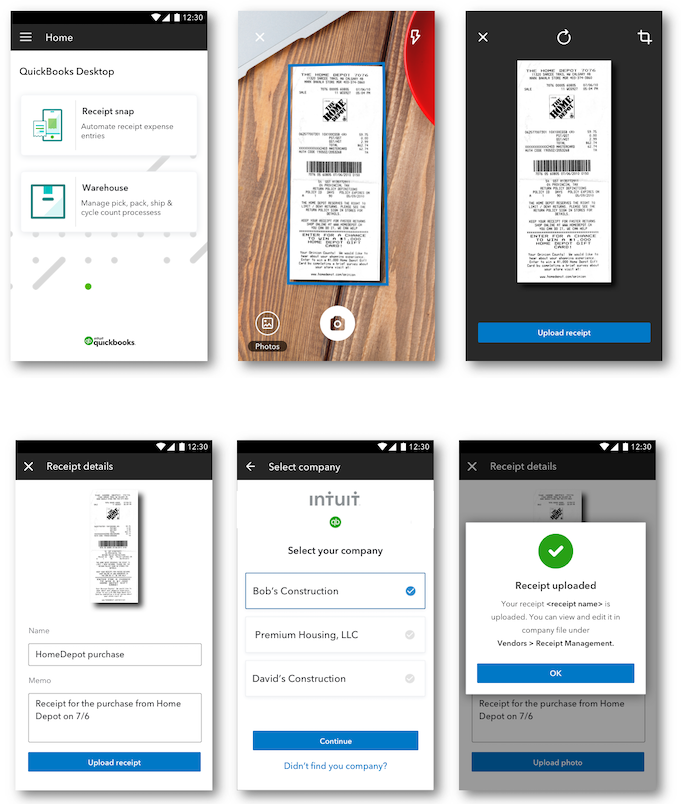 Business owners can create rule-based customer groups based on fields like customer type, status, location, and balance so that they can easily manage them and use them across multiple features. The pain point of having to spend significant time manually sending communication to customers outside system is alleviated by letting users send promotional emails to their HVC's that meet certain criteria from a single location.  Another problem that is solved is when users have to create multiple customer lists/groups across features, which cannot be reused for other lists/groups by setting up reusable reminders for mailing lists to send emails to customers.  Finally, there is no longer a need to manually update new transactions individually one by one since the user can create and use customer groups based on predefined criteria that don't need to be manually updated each time they are used.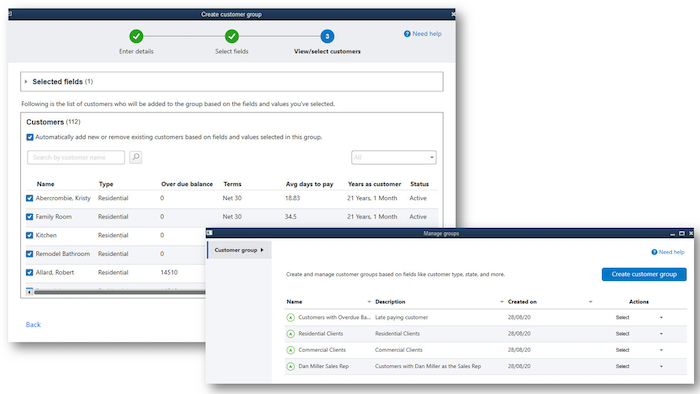 Business owners will now have a consistent professional look across all of their customer communications with the customization of payment receipts. Outdated payment receipts with limited information are replaced with detailed professional-looking payment receipts with all the relevant information fields present.  Payment receipts that now have to be manually edited to add items like a company logo or additional fields can be customized in a manner similar to existing form customization.  Finally, where there was no default customization template, there is now one available for payment receipts that also includes the ability to override it in the customer payments screen as needed.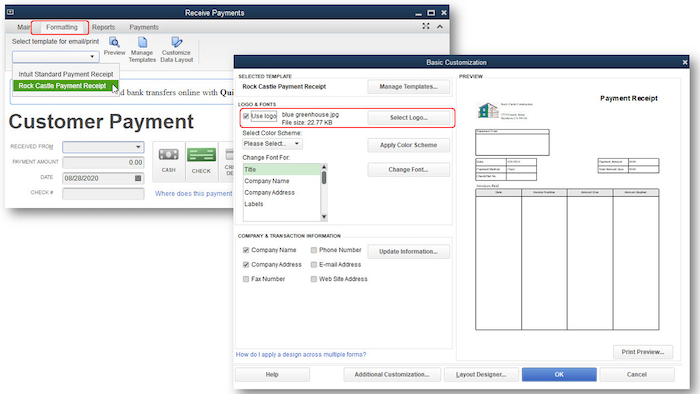 The QuickBooks ToolHub is a new feature that will be the go-to place for assistance with common QuickBooks issues. Solutions to common QuickBooks errors can easily be found in the ToolHub. Users often find it time-consuming to fix common errors and issues, but with ToolHub they will often be able to fix these problems with a single click and save valuable time.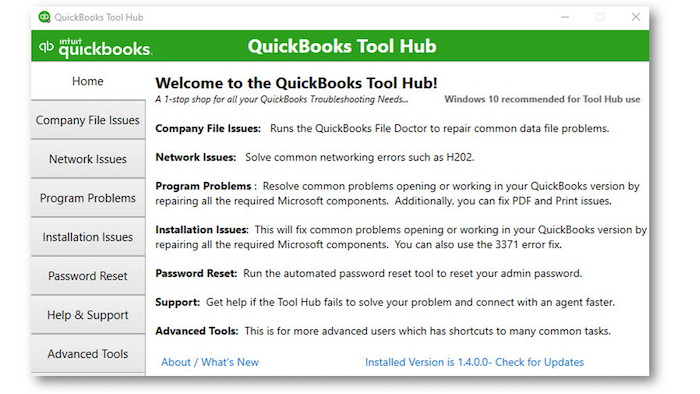 QuickBooks Capital is a way to get access to business funding with no origination fees, prepayment penalties, or hidden charges. Many users are uncertain about how long it will take to get funding for a business loan, but with this option, decisions are generally made more quickly and funds are often available within a week of applying.  With a standard loan, the application process usually requires submitting a lot of paperwork, but with this program QuickBooks can see business history and growth patterns, removing the need to provide a lot of documentation.  Finally, in many loan processes, there are hidden charges that are not apparent during the loan application process; with QuickBooks Capital, this is not the case as all charges are stated upfront.
Business owners who must remind their customers about overdue balances can now automate the process of sending monthly statements; QuickBooks can now automatically create statement emails for owners to review and send to customers. There is no need to identify which customers to send statements to and when to send them as these can be scheduled to be sent to groups of customers based on when the owner or the customer wants them sent.  Various customers need statements customized in a variety of ways and now the business owner can do one-time customizations for the email and statement layout for different customers based on individual needs.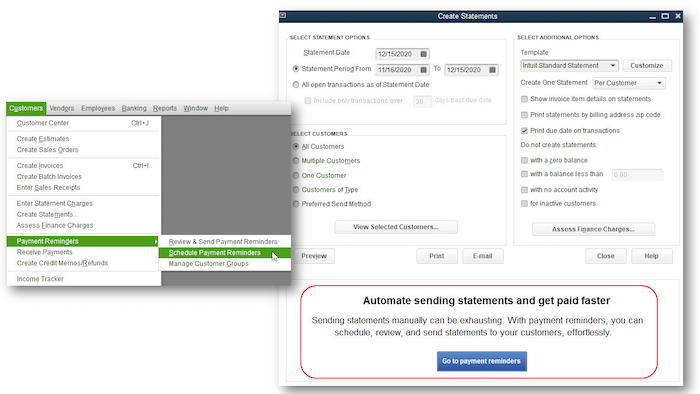 Automatic Payments Reconciliation helps merchants match all payments to their accounting automatically, every time with complete confidence and no work. The majority of payment transactions are no longer manual and time-consuming as they will be automatically reconciled.  Multiple clicks across tabs and confusing categories in MSD create an inefficient reconciliation experience, but now multiple tabs are consolidated for a clear workflow with tooltips and improved in-product help to make this more efficient with a single click accomplishing the task.  Previously there was little help or in-product instructions within an unclear product workflow, which has been replaced with a clear call to action with a focus on the category of transactions that need immediate attention.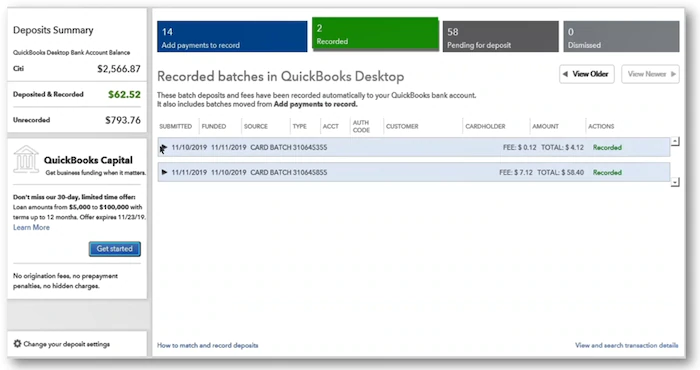 The QuickBooks Desktop Manage will help business owners that are not confident and have found it difficult to set up their QuickBooks. They will now have a more simplified installation process.  With new product SKUs releasing every year, some users do not know the right product for installation, but now they will be able to view all eligible QuickBooks versions and choose which to act upon.  Some users fear losing important company data if they self-install the product, but now they will be able to install or upgrade products with a single click.  Finally, users are not confident about where to find the right license and EOC combination, but this is no longer an issue when using the Desktop Manager.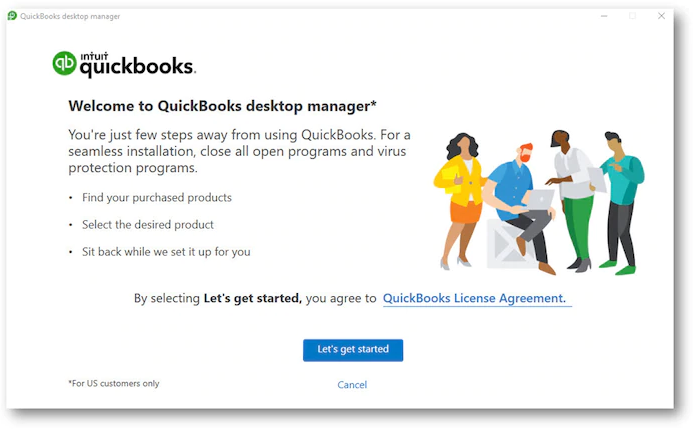 Small business owners can now set up calendar notices to ensure that they are reminded of upcoming payroll tax and liability payments. Federal and state agencies have different deadlines that vary widely and users can now set reminders for when these are due.  Some users just don't log into their QuickBooks very often and thus do not benefit from reminders within the program, but this problem is alleviated when reminders are pushed to their calendar.  Some users worry about how cash flow will be affected when scheduling payments, but with calendar reminders, they can hold onto cash until it is necessary to make a payment.  This process is stepped out here.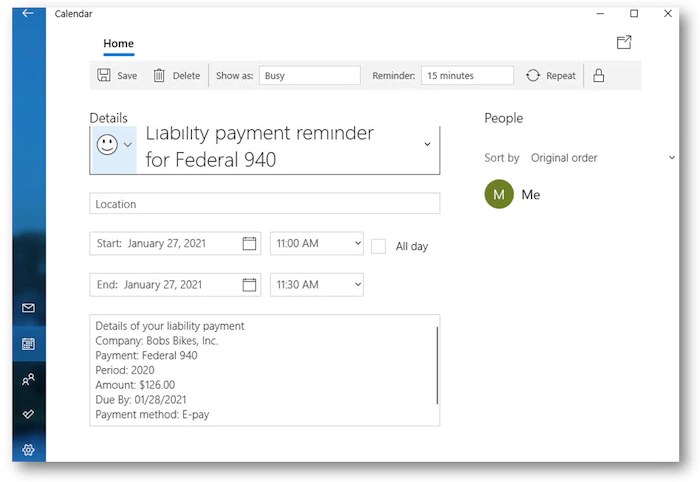 QuickBooks Enterprise is the flagship of the Intuit QuickBooks suite of software.  It is designed for more complex accounting and financial data management.  New features not mentioned above for 2021 include:
Improved Data Level Permissions give the user more granular access to view, edit, or delete only the specific customers, vendors, and data that they are responsible for. This alleviates the problem of assigning access to either all customer/vendor records or none.  The administrator can now give access to restricted customer and vendor records to a role/user.  Previously when the admin had to give restricted access they delegated responsibilities outside the system, but now they can create multiple roles with restricted access to avoid manual delegation.  Also previously, all users/roles had a complete view of transactions and financials, but now users/roles can have restricted views of confidential financial and transactional data as per their record level access.
Whether you're a small, medium, or large business, VARC Solutions can show you how these new and updated QBD features will help you and your clients get back to doing what you know best and keep you out of the weeds with your bookkeeping processes.  Contact us today for more information about QuickBooks Desktop or any other products in the Intuit suite of business tools.