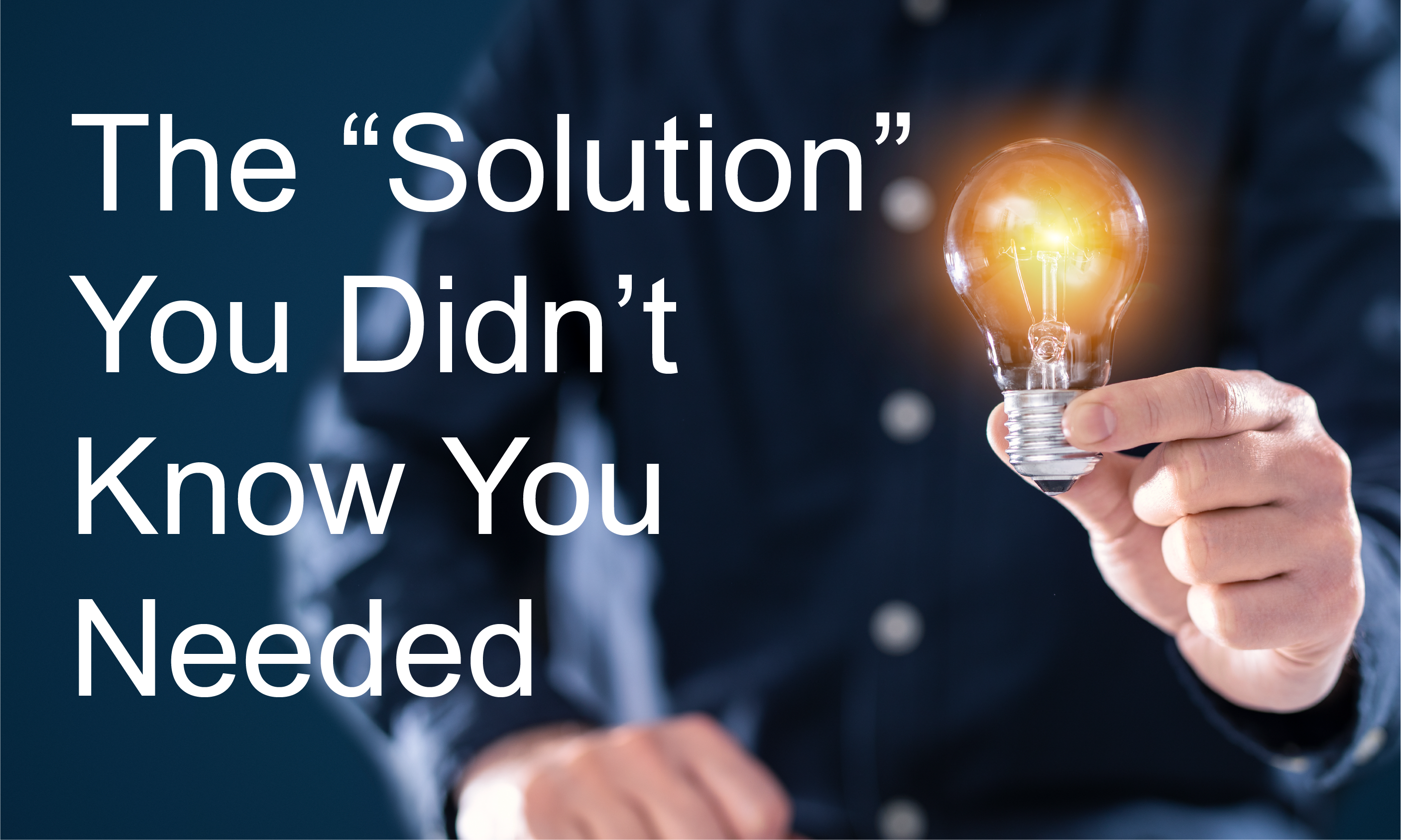 The "Solution" That You Did Not Know You Needed.
When you run a business, you find a way to do certain tasks and that becomes the way of the world… your world as it may be.  Sometimes we forget to look up and see if there is a better way to do a given task.  Over the last decade, we have refined a tool that we have found that has become the solution for the problem that most did not know that they had.  The most common thing that we hear is that I just do these "25" steps and it is done.  But if VARC Solutions can turn that into 5 steps would you be interested?
Pain points; every business has them.  You are growing quickly and need solutions to growth-related issues such as inadequate inventory control, unreliable timekeeping, overwhelming paperwork, outdated internal work processes.  There are many ways that a Quick Base application can help you operate your business more efficiently.
Is your business growing and you have multiple documents and spreadsheets holding a variety of data types organized under a single umbrella, making data discovery and management difficult?  If you do, then with these solutions you can share the data among team members and not be siloed, making each person come up with their own way of doing things instead of having a "company" way of doing the process.
Paperwork Floating from Department to Department
Does your operation still rely on paper work orders and reports, handwritten notes, and other high-touch documents?  Work Orders can be routed with jobs, document signature cycles are secure, and timelines between workgroups are seamless when they are all integrated within a single Quick Base application.
Do you suffer from your business divisions operating in silos, infrequently communicating with one another?  This is an environment where sharing and collaboration can be difficult, to say the least.
Do you have a standardized process that anyone can pick up if someone is out sick or maybe just decided to take a vacation day?  Do you have manual, redundant processes; this can result in many people in your organization working at cross purposes.
In today's business environment we are seeing the need for more remote workers.  Do you have a way to keep company assets (the data) safe and secure and not floating from in-box to in-box? When portions of your workforce are working remotely, this situation can lead to team members feeling disconnected.  Employees may feel that they do not have a go understanding of who is responsible for what tasks.
When your team relies on manual systems and data entry, a whole host of issues arise.  These systems often slow down processes and cause unnecessary delays in project completion.  Data entry errors are common, no matter how conscientious your employees are.
You need to know how your business is doing today, rather than 30 days from now at the end of a reporting cycle.  Regardless of where you are, having access to real-time reporting can be the life or death of a company.  The ability to be proactive with your data is key to succeeding in a pandemic.
When your business operations have become so complex, with an array of spreadsheets, database entries, and process flows that have become difficult to follow, the ability to guide the user through the steps of their jobs and make sure that things are not shortcutted can be key to the next sale or knowing what is around the corner for your business.
If any of these things struck a chord with you, then we would suggest looking at the solution that you did not know that you needed.
QUICK BASE
Quick Base is a low-code/no-code solution for process improvements that can address these issues and more to help your growing business operate more smoothly.  VARC Solutions, staffed by a team of certified Quick Base Expert Builders, can create a Quick Base application that will securely enhance internal business processes and reduce your daily pain points.  Whether you need assistance with upgrades to an existing application or want a new application created from scratch, VARC Solutions will be there for you.
Quick Base can provide a solution for you using dashboards for workflow.  These customized dashboards are designed for each employee to access processes they need and not the ones that do not directly relate to completing their specific job tasks.
With a Quick Base application that shows your team an overview of various tasks and project assignments, each employee can have a clear picture of what they, and others, are responsible for in the organization.
A Quick Base application developed by VARC Solutions can help you cut through the fog and see the big picture with more clarity than ever before.
Whether you are a small, medium, or large business, VARC Solutions can help you determine how to leverage Quick Base to improve workflow processes and procedures.  Your team will function more efficiently, and you will see increased productivity from the team.  Contact us today to see how Quick Base can help you reduce pain points and operate your business more effectively and efficiently.