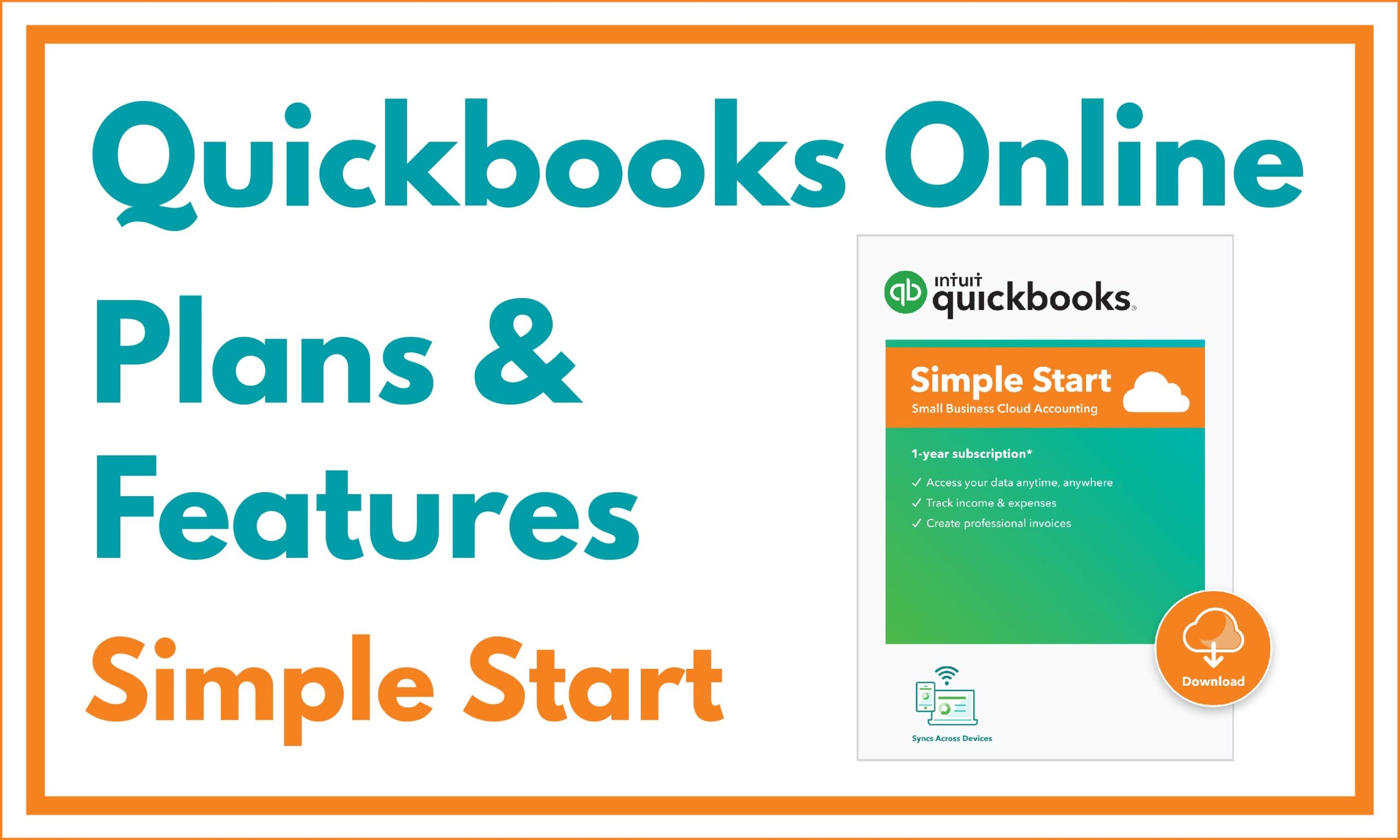 QuickBooks Online Plans and Features – QBO Simple Start
VARC Solutions is a nationally recognized QuickBooks consultancy, and as such, we really know the ins and outs of Intuit QuickBooks Online.  QBO is available as a monthly subscription at three features levels; Simple Start, Plus, and Advanced.  Based on the type and size of your business, one of these three options will contain the features you need to run your business more efficiently.

QBO Simple Start
At its most basic level, the Simple Start plan offers an array of features for a single user that will be helpful to many small businesses.  This package is often what businesses with just a few employees will need.  Often times the owner is also the bookkeeper, which makes this single-user subscription a perfect fit for these businesses.  The top features for QBO Simple Start include:
Tracking income and expenses. Know where your money is coming from and where it is going by securely importing transactions from a bank account, credit cards, PayPal, Square, and more.  Note that some additional terms and fees may apply, based on which payment methods are accepted.  Click on this video for a brief explanation of QBO and online banking.
Automatically sort transactions into tax categories.
Create custom tags and organize them into as many as 40 tag groups to more easily see where you generate income and spend money on expenses.
Get rid of that shoebox full of receipts; you can also photograph receipts and QBO will match them to existing expenses. QBO will match receipts to existing expenses or create new expenses for you. QBO will also sort receipts into tax categories to ease the burden on you and your accountant come tax time.
QBO will help you maximize tax deductions and help you avoid tax-time surprises. QBO makes it easy to share your financials with your accountant and export important documents securely when tax season rolls around.  QBO helps you easily organize income and expenses into tax categories.
Create invoices and accept payments in a number of ways, whichever best suits your business. Look professional and get paid fast by being able to accept all credit cards and bank transfers, right in the invoice.  If your client pays you right away, you can send a receipt, or if they will pay later you can send an invoice.  Click on this video to see how.  For a more professional look, use QBO templates to create custom invoices with your company logo that can be sent from any device, phone, tablet, or computer.
Being able to track mileage is often important to small business owners who travel to clients to provide a service. With QBO you can automatically track miles with your smartphone's GPS.  You can categorize business and personal trips with a swipe right or left and also add trips manually.  QBO can create easy-to-read reports that break down miles driven and highlight potential deductions.
Managing cash flow is very important to small business owners and QBO lets you forecast cash flow 30 and 90 days out to plan ahead and stay ahead. QBO also gives you access to the QuickBooks Cash account for business banking.  When you use the Cash account you can get paid online or in person, with funds deposited instantly to your account, and earn 1% APY interest.  Note that some additional fees and terms may apply to the QuickBooks Cash account.
Reporting is important to small business owners; it helps them keep an eye on income and expenses, and validate their profitability. With QBO you can run and export reports including P&L, expenses, and balance sheets.  You can also create custom tags and run reports to identify where you are making and spending money.  This helps you avoid surprises by easily tracking cash flow and reporting right on your QBO dashboard.
In many service businesses, clients will want to have an estimate of what a particular job will cost prior to hiring a business. QBO helps you create customized estimates that fit your brand and business needs.  QBO also allows you to accept mobile signatures, instantly see an estimate status, and convert estimates into invoices.  Click on this video link to see how easy it is to send an estimate in QBO.
Tracking sales and sales tax is a task that you need to get right every time. With QBO you can accept credit cards anywhere with your mobile card reader or sync with other popular apps.  You can also connect to third-party e-commerce tools, such as Shopify.  You can also automatically calculate sales taxes on your invoices within QBO.  Note that some additional terms and fees may apply for third-party apps.
Manage 1099 contractors and stay compliant on all 1099s using QBO. Assign vendor payments to 1099 categories and see who you have paid/what they were paid/when they were paid right inside QBO.  You can also prepare and file 1009s from within QBO.  Note that additional fees may apply if filing from QBO.  Review this video to see how easy it is to prepare 1099s in QBO.

Whether you are just getting started and you need a simple solution or your business is more mature, with QuickBooks there is always a 'right fit' solution that will meet your needs.  Contact VARC Solutions to find out how we can assist you with determining which software is right for you, getting it set up, and if you prefer, handling ongoing bookkeeping on an outsourced basis.