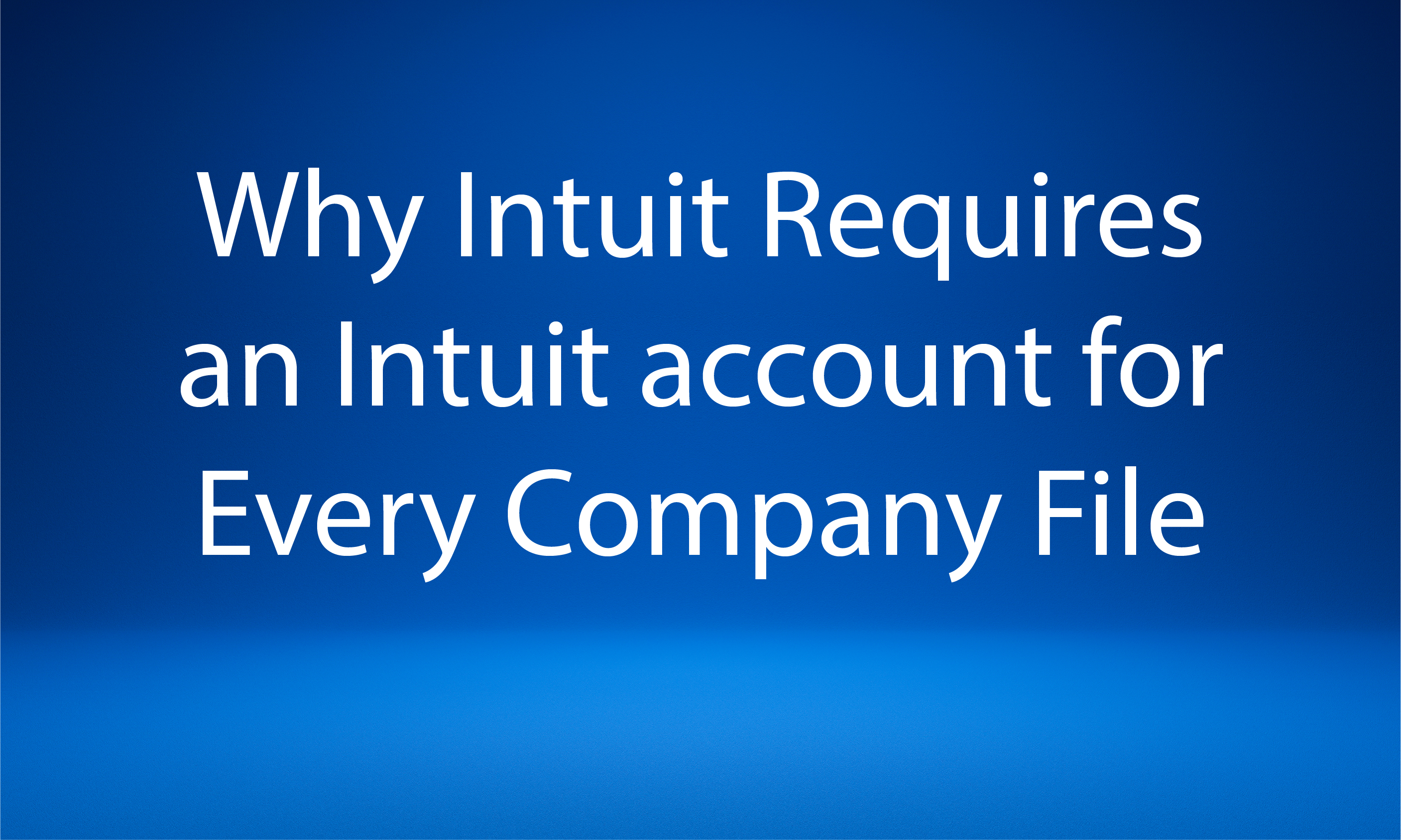 Why Intuit Requires an Intuit Account for Every Company File
Intuit recently announced that they are now requiring an Intuit Account (ie. Intuit Login), for every QuickBooks Company file.
The Announcement (as of 8/20/20)
We're asking each company admin to link or create an Intuit account per company file.
What is an Intuit account and why do you need it?
An Intuit account is the account you use to access any of Intuit's current and future products. An Intuit account ensures the following:
An extra layer of security and protection
Access to edit and modify your information through a single account (same UserID and password) for every Intuit product you choose to use
Access to added features and benefits for Payroll, Payments, Time tracking and more, which may require an extra layer of security
Linking your existing or creating your Intuit account is easy.
Open your company file and log in with your file Admin credentials
Follow the prompt to use/create an Intuit account (email address/username and password). Note that these credentials can be different from the company file log in
You may postpone the account linking/creation for up to 42 days while continuing to access your company file, but recommend you link/create it as soon as possible.
Once you've linked or created your new log in, you're all set.
For more information about setting up your Intuit ID, check out our detailed community article here.
If you need help, please contact our 24/7 premium customer support at 1-888-702-5228.
Why an Intuit Account and Why Now?
If you haven't experienced this yet, Intuit has created a small business ecosystem, not unlike what Apple has done with cell phones, music services, and apps. With Intuit, you aren't just buying a software program to do your accounting. You are buying an ecosystem set up to help your small business in a variety of ways:
Accounting software, such as QuickBooks desktop and QuickBooks Online
Tsheets for completely integrated time tracking for your employees that feeds into payroll processing and job costing
Payroll for you and your employees, along with state and federal tax reporting/filings
Merchant services to process credit card and ACH payments from your customers
Tax software such as TurboTax for processing end of the year taxes
Can you imagine having separate logins for every single one of these services? No? Well, neither does Intuit. So, going forward, Intuit is going to require you to create or link your various Intuit services to an Intuit Account to help manage all of these services.
If you have multiple businesses, you can certainly create multiple Intuit Accounts, one for each business. Or if they are all under your sole-proprieter umbrella, you can link to the same Intuit Account to save you time and make your Intuit login experience more streamlined.
Intuit can help you with this at 1-888-702-5228.
And if you need any other help with QuickBooks, including software upgrades or renewals, cleanups, making your QuickBook company file smaller and faster, outsourced bookkeeping (some, all, or anywhere in between), or signing up for various Intuit services at a discount, call VARC Solutions at 281-412-6914. We're ready to help.